French Opposition Backs Putin in Using Assad to Beat Extremists
by
Presidential hopeful Bruno Le Maire sees Russia as major ally

`I would not hesitate: fight IS, tie up with Russia:' Le Maire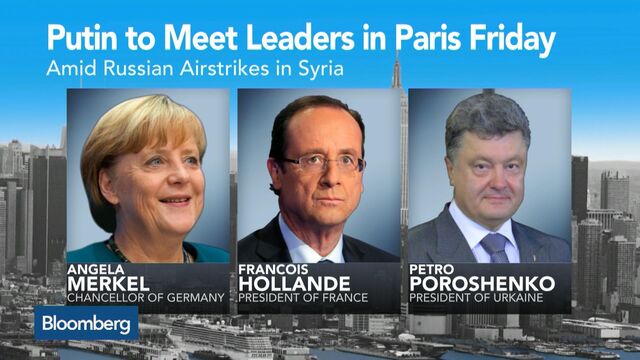 French conservatives see eye to eye with Vladimir Putin when it comes to Syria.
Taking a pragmatic ends-justify-the-means approach, Republican presidential hopeful Bruno Le Maire said he would align France with Russia in its efforts to defeat Islamic State, even if that means supporting Syrian leader Bashar al-Assad. A small majority of voters agree him.
While Germany's Angela Merkel and even U.K.'s David Cameron had indicated flexibility on the timing of Assad's eventual departure, President Francois Hollande is adamant Assad must step aside. A gathering of world powers at the United Nations exposed deep divisions on how to tackle a conflict that has fueled an exodus of Europe-bound refugees.
"If I was in power today, I would not hesitate: fight IS, tie up with Russia and weigh in with Cameron and Merkel to fight IS, also to solve the refugees crisis," Le Maire, 46, said in an interview with Bloomberg in Paris. "We have an impossible choice to make because it's hard to say 'We'll fight IS with Assad's troops,' but we have to act quickly."
Putin's Motives
Russia's air campaign in Syria has led U.S. and its Western partners to question Putin's motives in propping up an embattled ally. Yet the U.S.-led coalition's failure to roll back militants has some in The Republicans opposition group saying France is wrong to rebuff Russia's appeal for a coordinated approach that would involve working with Assad.
Hollande and Merkel, whose country is facing the brunt of the immigration crisis, will discuss Russia's stratagem on Friday in Paris along with Ukraine's 18-month military conflict against pro-Russian separatists. Putin and Ukrainian leader Petro Poroshenko are also in capital for the meeting of the so-called Normandy Quartet.
"The Russian plan is neither perfect, nor nice, that's for sure, but what alternatives are Francois Hollande and Barack Obama putting forward, apart from air strikes which, as far as we can see, aren't enough?" Francois Fillon, who served as prime minister under former President Nicolas Sarkozy and has his own presidential ambitions, has said.
For Bruno Le Maire, who faces a crowded field in the November 2016 presidential primaries, Syria and Ukraine are separate issues and it's clear which is the priority.
"We should put Ukraine's situation aside," Le Maire said. "Ukraine is an issue certainly, but it's not a threat. The threat is IS. We lost 12 citizens to it."
It's not the first time France's conservatives seek closer ties to Russia. Back in 2011, Sarkozy incurred U.S. displeasure by agreeing to sell two warships to the former Cold War foe. Before his 2012 defeat, Sarkozy let Putin build a new Russian Orthodox church with five golden domes in central Paris. The former president, who is making another run for office, has not take a public position on Putin's latest Syrian initiative.
Allegiances changed when Hollande came to power in 2012, with the invasion of Crimea and Putin's backing of military separatists hardening France's position. To make the point, he also canceled the warship sale to Russia.
Before it's here, it's on the Bloomberg Terminal.
LEARN MORE