The Fat Duck Is Back and Heston Blumenthal Wants to Read Your Mind
Getting a table at the newly re-opened Fat Duck is harder – and more expensive – than ever.
by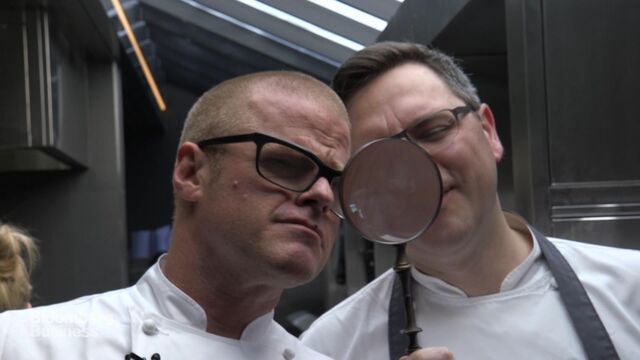 A pillow hovers above the table, bearing your dessert. There's no helium and there are no wires. You place a folded piece of paper inside a cocktail shaker, which then somehow reads your choice and pours the drink you want.
Restaurants are sometimes described as magical, but Heston Blumenthal takes this a little further at the Fat Duck, which reopened this week after a £2.7 million ($4.1 million) refurbishment that includes a new kitchen and a new look.

On entering, diners walk past a hologram at the entrance and menu items revolve through the air before your eyes.
In place of a regular menu, there's a map that takes you on a childhood trip to the seaside. It starts with the journey to the coast, continues with a visit to the beach and a walk in the woods, then ends with dinner, followed by bedtime and dreams.
Blumenthal, who became famous with unusual culinary creations such as crab ice cream and snail porridge, says his aim is to trigger memories by engaging all the senses of the diner.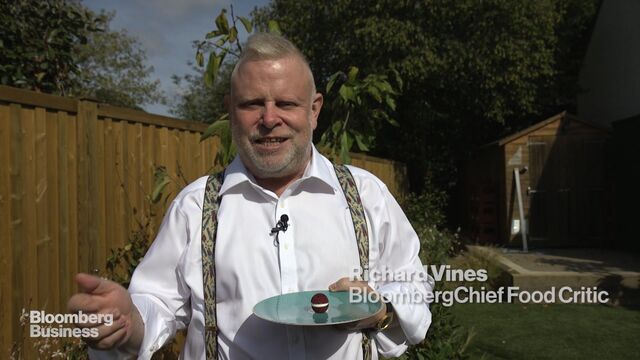 "Eating is a multisensory experience: what you touch, what you hear, what you smell and what you feel, who you are with – all have an effect," Blumenthal says. "And I've been wanting to tell a story, a narrative that provides a context for dishes.
"It's about emotions of curiosity, discovery, adventure, playfulness. As adults, we lose all this. We are too wound up about all the troubles in life. Nostalgia helps counter stress."
All this comes at a cost, of course, and the famed cost of eating at the Fat Duck might itself cause some stress: the price has now risen to £255 per person, excluding drinks and service, payable at the time of booking. That's if you can get a table. The restaurant, in the village of Bray, west of London, seats about 40 guests.
The Fat Duck reopened after a nine-month hiatus that saw the restaurant and all its staff migrate to Australia for a vastly oversubscribed residency in Melbourne. The original inn is booked out months in advance, and there are now fewer seats than before.
"I've taken out a table for two," Blumenthal says, interviewed in his new kitchen. "For one table of two, you are probably looking at £250-300,000 of revenue [per year]."

If you do get a table, it really is a remarkable experience. After discussions with the person making the booking, the Fat Duck now tries to build diner profiles before they arrive. The meal is then tailored to individual experiences. So if a diner is from, say, Japan, a Japanese reference may be incorporated; if you were raised on a farm, there may be something reminiscent of a farmyard. (Natural wine might be a place to start: smell is one of the biggest triggers of memory.)
The idea of a journey in time and space will even be reflected in the chairs. Blumenthal has ordered some that resemble car seats, though they haven't arrived yet. Lighting above the table will mark the passing of the day, from dawn through dusk.

I went along to a trial run on Tuesday, when waiters had to navigate round camera crews to reach the invited guests.
The menu is not all new. It features old favorites such as the Sound of the Sea, where diners are served seafood and edible sand while wearing earphones filled with the sound of gulls and crashing waves. The Mad Hatter's Tea Party is there, too, a fob watch that dissolves in a cup of mock turtle soup.
But there are new elements, too. A cup filled with hot and cold liquids side-by-side now contains veloute of rabbit with tarragon and mustard.
About two hours in, a three-course silver-service dinner arrives, representing the dinner taken at the end of your day at the seaside. The poached and hot-smoked langoustine with shiitake mushroom, kombu and birch syrup/cocktail sauce and little gem is particularly fine.
It illustrates the general point: although Blumenthal has the image of a mad food scientist, his ultimate focus is on flavor. His food – which I've eaten many times – isn't just exciting to look at. It's delicious.

He plays with all your senses in order to magnify the experience of taste. In case you are in any doubt, there are now magnifying glasses on each table.
Having said that, I am still trying to fathom how the cocktail shaker worked out that I wanted a nitro-poached Campari soda. (The cocktail comes in a frozen coating. You pop it in your mouth, where it explodes, releasing intense flavors.)
I can reveal the secret of the floating dessert, however. It's all done with magnets concealed in the pillow that hovers above the table. Spooky.
Booking is via the website http://www.thefatduck.co.uk/ with reservations currently being taken until the end of January.
Richard Vines is the chief food critic for Bloomberg. Follow him on Twitter @richardvines
Before it's here, it's on the Bloomberg Terminal.
LEARN MORE