Do CEO Bonuses for Worker Safety Do Any Good? Massey Trial Begins
By and
Energy, mining companies linking pay to safety have tripled

Only 12% of compensation on average tied to incident rates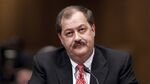 Massey Energy was one of a handful of mining and energy companies that tied its chief executive officer's bonus to safety performance in 2010. Today, former CEO Donald Blankenship goes to trial on charges stemming from a West Virginia mine explosion that killed 29 workers, the U.S. industry's deadliest in almost four decades.
Blankenship had his bonus cut by about $150,000 that year for failing to meet safety goals. He still got a $669,000 award because only 10.5 percent of his annual bonus was tied to safety.
"If 90 percent of your bonus can be achieved with full disregard to health and safety, that's an underwhelming link," Anne Simpson, senior portfolio manager and director of corporate governance at the California Public Employees' Retirement System, the largest U.S. pension, said of typical executive-compensation practices. "Particularly in an industry where health and safety is absolutely the foundation of the company's license to operate, its reputation, its operational risk and, of course, ultimately financial success."
Massey's worker-safety pay incentives at the time were more stringent than two-thirds of the 41 energy and mining companies in the current Standard & Poor's 500 Index that disclosed CEO bonus criteria in 2010, according to data compiled by Bloomberg. Since 2009, the number of companies in the group that link a portion of their CEO's bonus to a specific safety goal has almost tripled, to 56 percent from 20 percent.

Incident rates at the companies that have publicly reported such data each of those years, have fallen almost by half, data compiled by Bloomberg show. The rate measures the number of work-related injuries and illnesses occurring among full-time employees over a period of time.
Little Correlation
Still, there's little correlation between compensation incentives and worker safety. Chevron Corp., which doesn't tie compensation to a quantifiable safety metric, had a recordable incident rate of 0.10 last year. That's far lower than the median of 0.43 for the 20 energy and mining companies that disclosed such data for all of the past six years. Oneok Inc., with a more stringent policy linking 10 percent of CEO annual bonus pay to reportable incidents, had a rate of 0.83, nearly double the median.
Chevron and Oneok declined to make members of their compensation committees available for interviews. Melissa Ritchie, a Chevron spokeswoman, said in an e-mail that total pay for top executives is tied to corporate performance and shareholder value. Megan Washbourne, a spokeswoman for Oneok, said the Tulsa, Oklahoma-based energy company included the safety factor in calculating CEO pay "to reward safe behavior throughout our company."

Investors who pick stocks based on corporate responsibility say one reason for the lack of correlation between compensation policies and safety is that incentives aren't strong enough.
"It is better than nothing -- that's about the best thing I can say about it," said Julie Gorte, senior vice president for sustainable investing at investment-advisory firm Pax World Management LLC. "If it's 5 percent of the bonus, and the bonus is 5 percent of pay, let's be realistic, is that really going to incentivize a lot of difference?"
Incident Rates
Energy and mining companies in the S&P 500 that tie pay to safety metrics linked about 12 percent of annual bonuses to those measures in 2014 on average, data compiled by Bloomberg show. By comparison, 77 percent of bonuses on average were based on financial and operating metrics.
When energy companies link bonuses to safety metrics, most use the total recordable incident rate. Anadarko Petroleum Corp., Murphy Oil Corp. and Oneok have used the measure in CEO bonus pay calculations since at least 2009. Anadarko began including the incident rate in executive bonus payouts in 2004. Amanda McMillian, Anadarko's chief compliance officer, said the company's compensation committee chose to use a safety link because "we try to think about metrics that relate to what our employees can control in their-day-to-day work lives."
Other firms tie bonuses to a customized scorecard of safety-performance measures.
While mining and energy companies are required to report serious incidents and fatalities to federal agencies, public disclosure is neither mandatory nor uniform. Disclosures may appear in corporate responsibility reports, proxy statements or on company websites.
Missed Target
In 2010, the year of the explosion at Massey's Upper Big Branch coal mine, Blankenship's pay was tied to non-fatal days lost, or the number of days missed as a result of worker injuries that didn't result in death. The CEO missed his target, failing to reduce the number from the previous year, and Massey's compensation committee decided against awarding him the safety-related portion of his bonus that year. The portion he did receive, which was based largely on company performance, was less than half of his target payout.
Blankenship left Massey later that year with a retirement package worth $14.4 million, including his cash bonus for 2010 and the title to a company-owned residence valued at $375,000. Alpha Natural Resources Inc., which acquired the firm for $7.1 billion in 2011, was ordered by a judge in May to pay for Blankenship's criminal defense.
Blankenship's lawyer, William Taylor, declined to comment, as did a spokesman for Alpha. The company, which filed for bankruptcy in August, tied 15 percent of its CEO bonus last year to a recordable incident rate.
"Don Blankenship has been a tireless advocate for mine safety," Taylor said in a statement in 2014. "His outspoken criticism of powerful bureaucrats has earned this indictment. He will not yield to their effort to silence him."
Deepwater Horizon
Disasters such as the April 5, 2010, West Virginia coal-mine explosion and the Gulf of Mexico oil spill the same month have highlighted the financial repercussions that such events can cause. The Deepwater Horizon fire resulted in 11 worker deaths, 17 injuries and extensive environmental damages. BP Plc, which owned the well, has set aside almost $54 billion to cover costs resulting from the spill. The company didn't award any bonus to its top executive that year.
Boards of energy companies showed greater interest in safety-related payout metrics for executives after the spill, said Brent Longnecker, CEO of executive-compensation consulting firm Longnecker & Associates.
"All the board meetings I had, everybody took note," Longnecker said. "Your stock goes down on something like that. You lose billions of dollars in market cap. That gets your attention. So why not be proactive?"
Among energy and mining companies that have tied a percentage of CEO bonuses to quantifiable safety metrics since 2009 are Apache Corp., Cameron International Corp., Chesapeake Energy Corp., Freeport-McMoRan Inc. and Hess Corp. BP linked 30 percent of its CEO's bonus last year to safety goals.
Starting to tie a portion of compensation to safety is a good development, said Sanford Lewis, a lawyer for the Investor Environmental Health Network, a partnership of investment managers that encourages companies to adopt environmentally friendly policies.
"But whether it's a substantial enough part of the compensation package is a question we certainly all need to scrutinize," he said.