ConAgra Will Cut 1,500 Jobs and Move Headquarters to Chicago
By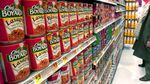 ConAgra Foods Inc., coping with a slowing packaged-food industry and a failed acquisition of Ralcorp Holdings Inc., will cut about 1,500 jobs and move its headquarters to Chicago as part of a plan to boost efficiency.
The eliminated jobs represent about 30 percent of the company's office workforce globally, according to a statement on Thursday from ConAgra, which is currently based in Omaha, Nebraska. The maker of Chef Boyardee, Orville Redenbacher's and Slim Jim expects to save at least $300 million from better efficiency, lower headcount and cutbacks in overhead expenses.
The company will spend about $345 million, mostly in cash, to implement the changes over the next two to three years. And the move to Chicago, coming in the summer of 2016, will make it easier to attract talent, said Chief Executive Officer Sean Connolly.
"We are making difficult, but necessary, decisions to enhance productivity," he said in the statement.
Like other packaged-food giants, ConAgra has struggled to maintain growth in the face of changing consumer tastes. The company has the added weight of dealing with its troubled acquisition of Ralcorp, a maker of private-label foods for supermarkets. ConAgra struggled to merge those operations with its branded food business and announced plans in June to sell the division. Last month, it wrote down the value of the private-label business by almost $2 billion.
Activist Pressure
The company also came under pressure from activist investor Jana Partners earlier this year. The hedge fund acquired a 7.2 percent stake in ConAgra and threatened to nominate board members in a proxy fight. The two sides settled in July, with ConAgra agreeing to add two directors to its board.
The stock got a boost after Jana got involved with the company, helping send it up by 12 percent this year through the end of September. The stock was little changed on Thursday in New York, trading at $40.53 as of 9:58 a.m.