Photographer: Dhiraj Singh/Bloomberg
Metals Are Getting Smashed
Crashing prices are upending copper and aluminum players.
By , , , and
These are tough times to be in the commodity business. A selloff in the oil market that began in June 2014 has extended to a range of raw materials and is starting to resemble a full-blown meltdown. Investors reacting to weaker Chinese demand and an end to cheap money provided by the Federal Reserve are rushing to sell positions in companies that produce, trade, and ship everything from oil to gold to copper and aluminum. A Bloomberg commodities index that tracks returns from 22 raw materials has fallen 50 percent since a 2011 high and is trading near its lowest level since 1999. Of the 10 worst performers in the Standard & Poor's 500-stock index this year, eight are commodities-related companies.
Monday, Sept. 28, was particularly tumultuous. In the span of a few hours, Alcoa, a 127-year-old industrial bellwether and the largest U.S. aluminum producer, announced it would break into two smaller companies, while Royal Dutch Shell, one of the world's top oil producers, said it was abandoning its drilling campaign in U.S. Arctic waters after spending $7 billion. The carnage culminated when shares of Glencore— the Swiss commodities powerhouse that trades and produces some of the world's most critical raw materials, including zinc and copper—lost nearly a third of their value.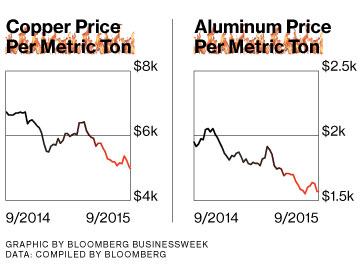 "Fears in the market have intensified," says Ed Hirs, who is managing director of small oil producer Hillhouse Resources and teaches energy economics at the University of Houston. "Lower demand for all commodities seems to have sent everybody off the cliff."
This may only be the beginning. Analysts John LaForge and Warren Pies of Ned Davis Research Group, based in Venice, Fla., say commodities are in the fourth year of a 20-year "bear supercycle." The analysts looked at commodity busts dating to the 18th century and found they're typically driven by market momentum more than supply and demand fundamentals. "In commodities, you're going to get a lot of failures, companies closing up," LaForge says. "This needs to happen to bring down supply." The good news: Most of the damage is done in the first six years.
In a way, commodity producers are simply reaping what they've sown. A decade of high prices, driven by rising Chinese demand, induced billions of dollars in new investments aimed at boosting production. Copper miners alone increased their combined annual capital spending to expand operations fifteenfold, to more than $33 billion from 2002 to 2012, according to Citigroup. Now, just as all that new metal is being dug out of the ground, demand for it is slowing, leaving entire industries awash in raw materials.
Not only is China on pace for its worst annual growth in 25 years but the way its leaders plan to transition the economy from industrial-intensive growth to more consumer-oriented activity is also particularly troublesome for metals companies that supply its factories. The mainland remains the world's leading metals consumer, so even the slightest dip in demand produces ripple effects. "When the Chinese economy catches a cold, base metals catch pneumonia," says Tai Wong, director of commodity products trading at BMO Capital Markets.
China consumed nearly half the world's copper in 2014, according to Goldman Sachs. Its demand should stay flat this year, the firm says. If so, this will be first time since 1988 that demand for copper in China didn't rise, according to Goldman. Even as producers slash output, the world will be stuck with a surplus of 485,000 tons of copper, 18 percent more than last year. As a result, Goldman expects copper prices in 2015 to average about $5,670 a ton, 17 percent lower than in 2014.
To show how important China is to the global copper industry, Dane Davis, an analyst at Barclays, points to the country's construction industry, which consumes about as much copper (3 million to 4 million tons a year) as the entire economies of Canada, Japan, Mexico, and the U.S. combined. "It's quite incredible," he says. That poses a significant problem for mining companies as the Chinese real estate market cools and infrastructure spending flattens. A more consumer-driven China will need plenty of energy- and food-related commodities to meet the needs of a population trying to raise its living standards. Metals are a different story. "The consumer economy is far less metals-intensive on a per-capita basis," Davis says.
This has consequences for Glencore, which rode the commodities boom better than any other company but is now getting crushed by the bust. Since April, Glencore shares are down 71 percent. Derivatives traders have started demanding upfront payments to protect against a default by the company, the first time that's happened since credit markets were thawing in 2009.
Investors weren't reassured by a $10 billion debt-reduction plan announced three weeks ago by Ivan Glasenberg, Glencore chief executive officer, as well as a plan to sell its agricultural unit. Amid the stock rout on Sept. 28, Investec, a U.K.-based investment bank, warned that if low commodity prices persist, there would be little value left for Glencore's equity shareholders. "People smell blood, and they are circling," says Clive Burstow, who helps manage $44 billion at Baring Asset Management in London. "The market is looking for someone to test, and Glencore is in the sights."
A year after a 2011 initial public offering valued Glencore at $59 billion, Glasenberg executed what's now seen as a disastrous move to buy Xstrata, then the world's biggest coal exporter, for $29 billion. The idea was to give Glencore's traders access to abundant and diverse supplies of raw materials from mines Xstrata owned. Ironically, that broad exposure is at the heart of the company's problems now. "Glencore is no longer just a trading house. It owns significant copper assets, so lower prices will definitely hurt its revenue stream," says Mu Li, director of base and specialty metals research at CPM Group.
On Sept. 29, Glencore said in a statement that its business is "operationally and financially robust" and that it has "absolutely no solvency issues." By the end of trading in London on Sept. 30, Glencore shares had rallied and recouped most of their losses from Monday's crash.
Like Glencore's troubles, Alcoa's stem from China. Rather than shutter factories that turn an ore called bauxite into aluminum and risk extensive job losses, the country has kept the plants running and is churning out record amounts of low-cost aluminum, driving down prices. About half of all global aluminum production is losing money at current prices, the most since the financial crisis of 2008, according to Macquarie Group. Last year, China accounted for 52 percent of global aluminum production; this year it will produce 30.5 million metric tons, or nearly 3 million tons more than last year, according to analysts at Morgan Stanley.
Rather than compete with that cheap supply, Alcoa is splitting off its shrinking smelting operation to focus on its higher-margin business of manufacturing aluminum products for the transportation, construction, and aerospace industries. And that may mean it will end up buying aluminum made in China.
The bottom line: The crisis in the metals market has Alcoa splitting off its smelting business and Glencore is scrambling.
Before it's here, it's on the Bloomberg Terminal.
LEARN MORE