Chris Christie and John Kasich Battle to Exceed Low Expectations in Iowa
Neither candidate is polling well in the state, but if they can show some progress in the next four months, it could give them a boost as they head to more friendly territory in New Hampshire.
By and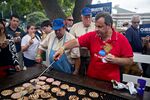 Nobody expects Chris Christie or John Kasich to win the Iowa caucuses, even as they ramp up their travels in the state. Ironically, in an election contest where managing expectations is a central part of the game, polling in the low single digits there now may not be the worst place to be in a historically crowded Republican presidential field.