Chris Christie and John Kasich Battle to Exceed Low Expectations in Iowa
Neither candidate is polling well in the state, but if they can show some progress in the next four months, it could give them a boost as they head to more friendly territory in New Hampshire.
By and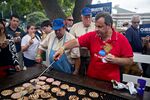 Nobody expects Chris Christie or John Kasich to win the Iowa caucuses, even as they ramp up their travels in the state. Ironically, in an election contest where managing expectations is a central part of the game, polling in the low single digits there now may not be the worst place to be in a historically crowded Republican presidential field.
Having recently watched one past and one present governor drop from the race, the chief executives of New Jersey and Ohio have both telegraphed in recent days a greater commitment to Iowa campaigning, four months before the first nomination balloting begins there.
"They have done a very good of keeping expectations low," said Eric Woolson, a Republican strategist in Iowa who worked for the failed campaign of Wisconsin Governor Scott Walker.
That's an understatement. Until recently, Christie and Kasich focused almost entirely on New Hampshire, where they think their more moderate records and messages stand a better chance of connecting with voters than in Iowa, where social conservatives tend to dominate the caucuses.
With former Florida Governor Jeb Bush struggling in the polls—and Walker's exit from the race—both Christie and Kasich see a potential opening. Even if they can only muster a finish in the top seven or eight, it could be enough to keep them alive and give them a tiny bit of momentum. "I think there will be more than three tickets out of Iowa this time," Woolson said. 
Pundits have traditionally said three candidates can emerge from Iowa, while those who finish further back tend to see their fundraising and support evaporate ahead of primaries in New Hampshire and South Carolina. Iowa Governor Terry Branstad has also said he expects more than three will survive Iowa in 2016, given the crowded field.
Christie was in Iowa two days this week, while Kasich made three stops there on Wednesday, his second trip to the state in less than a week. Until this past week, Kasich had only been in the state three times the entire year.
Earlier this week, Christie received a significant boost when six major Iowa Republican donors and activists that had been courted by other candidates endorsed him. The announcement was a blow to establishment candidates like Bush and Senator Marco Rubio of Florida, who had both wooed the men prior to their selection of Christie.
The new Christie backers included six of the seven Iowans who flew to New Jersey in 2011 to try to encourage him to enter the 2012 presidential race. The group included agricultural businessman Bruce Rastetter, a top Branstad donor who hosted a rural issues summit earlier this year in Des Moines that was well attended by Republican presidential candidates.
Besides lending additional establishment credibility to Christie, Woolson said the endorsements will also likely translate into contributions to the super political action committee backing the governor. "These are guys who are used to writing big checks," he said.
Both Christie and Kasich recorded just 2 percent in a Bloomberg Politics/Des Moines Register Iowa Poll released in late August. Besides being well behind billionaire Donald Trump and retired neurosurgeon Ben Carson in Iowa, the two governors also face an electorate there where they likely can only sell themselves to 50 to 60 percent of the voters. The poll showed 48 percent of likely Republican caucus participants said they could never support Christie and 40 percent said that of Kasich.

"Chris Christie has a better chance than John Kasich of moving up in the Iowa polls because of his retail political skills," said Jamie Johnson, a former Republican Party official in Iowa who played a national role in the failed campaign of former Texas Governor Rick Perry. "When he is in a room, he makes sure that he greets every attendee, looks them in the eye, and answers their questions in a direct way."
Kasich will struggle in Iowa, in part, because of an answer he gave in an Aug. 6 debate where he said he accepted same-sex marriage even though it was counter to his "traditional" views, Johnson said.
"It caused social conservatives to groan," said Johnson, who for now is neutral in the race. "Governor Christie has a nuanced position on that and sounds more convincing on his personal convictions on the marriage issue."
Eastern Iowa could be especially friendly territory for Christie, Johnson said. "They are going to look for a proven public servant more than the western part of the state that looks to ideology first and competency second," he said. "I would not count Chris Christie out."
In an interview in Iowa, Kasich said he always planned to compete in the state and is simply getting a later start in spending time there. At the same time, he made it clear he doesn't favor the caucus process that tends to attract a smaller, more partisan slice of the electorate than do primaries.
"We'll play here as much as we can, and I'm looking forward to an election in New Hampshire where the whole state votes," Kasich said. "I'm comfortable with the format where everybody can vote."
Kasich recently hired Cory Crowley, a former aide to Senator Chuck Grassley of Iowa, to be his state director, and state Representative Mary Ann Hanusa, who worked for former President George W. Bush, as his state chairwoman.
If Kasich could finish close to Bush or Rubio, it could boost his chances a week later in New Hampshire, said Steve Roberts, a Des Moines lawyer and former Iowa Republican state chairman and national committee member. "He sees a possibility at least of gaining some ground out here, so he might end up in the respectable category," he said. "It helps his chances in New Hampshire."