Boehner Defends Benghazi Panel as Democrats Seek to Abolish It
By
Pelosi suggests Democratic members may stop attending

Speaker hopeful said panel damped Hillary Clinton's standing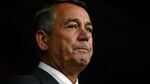 Outgoing House Speaker John Boehner rejected calls from top Democrats to shut down a panel investigating the 2012 attacks in Benghazi after his top lieutenant, the leading contender to replace him, credited the panel's work with eroding support for presidential candidate Hillary Clinton.
The House and Senate's top Democrats called for abolishing the committee. House Minority Leader Nancy Pelosi, a California Democrat, said she'll consider pulling her members from the panel.
"Everybody thought Hillary Clinton was unbeatable, right?" House Majority Leader Kevin McCarthy boasted Tuesday on Fox News Channel's "Hannity." "But we put together a Benghazi special committee, a select committee. What are her numbers today? Her numbers are dropping. Why? Because she's untrustable. But no one would've known any of that had happened had we not fought and made that happen."
McCarthy of California is the front-runner to replace Boehner, who announced last week that he'll leave Congress at the end of October. House Republicans plan to choose a new speaker Oct. 8, and Boehner has said McCarthy "would be an excellent speaker."
The special committee's investigation of the Sept. 11, 2012, attack in Benghazi, Libya, that killed four Americans has become a flash point in a Congress controlled by Republicans. Democrats contend the majority is using it to damage Clinton politically as she leads the polls among Democrats running for president in 2016. 
'Delay, Derail'
"This investigation has never been about former Secretary of State Clinton and never will be," Boehner, an Ohio Republican, said in a statement. "The fact remains that Secretary Clinton and the Obama administration have done everything they can to delay, derail and stop this investigation."
Senate Minority Leader Harry Reid, a Nevada Democrat, said on the chamber's floor Thursday that the committee should be abolished. McCarthy's statement wasn't a gaffe, Reid said. "He just told the truth."
"They better take a look at who they are going to put in as speaker," Reid said.
Pelosi told reporters that McCarthy's comments displayed the true intent of the panel.
"It's obvious that it should be disbanded based on the leader's own words, but since we recognize Republicans do not intend to do that, my members will continue to participate," Pelosi told reporters. "How much longer we continue to participate depends on how serious they are. And we haven't seen any signs of seriousness. Not any results."