Bluefield May Acquire Operational Solar in U.K., Europe
by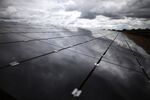 Bluefield Solar Income Fund Ltd., a London-based investor in utility-scale solar, may buy operational photovoltaic plants in the U.K. and potentially in southern Europe in the next year.
"For the first time, we're seeing secondary assets coming onstream, so there's the possibility of looking to buy operational assets," said James Armstrong, managing director of Bluefield LLP, which advises the fund.
To date, the company has built almost all of its plants with third party contractors. As the solar industry matures, there's more opportunities for Bluefield to buy projects from other companies. Solar installations have boomed in the U.K. as developers race to complete projects before subsidies are cut.
Bluefield is actively looking to expand into new markets in southern Europe in the short term and considering Italy and Spain in particular. It would set up a separate entity to do so and keep its current fund focused on the U.K., Armstrong said.
Acquisition Costs
The company spent 139 million pounds ($210 million) on 19 solar photovoltaic plants in the U.K. through eight acquisitions in 2015. As of June 30, it had an installed capacity of 253 megawatts.
Bluefield boosted its quarterly dividend by 25 percent to 7.25 pence in the last year and plans to increase its leverage levels to about 25 to 30 percent of growth assets from 5 percent. It has kept its growth outlook steady.
The U.K. government slashed subsidies for the solar industry in April and July. Support programs for large and smaller-scale projects were canceled and ended early. Small-scale clean power producers will no longer be locked in to guaranteed power prices under the feed-in tariff program.
While developers working on new plants cry foul about the subsidy changes, Bluefield and others taking income from existing plants are mostly unscathed because once a plant starts operating terms at which it sells its power are fixed.
"There is a misunderstanding in the market about regulatory risk in the U.K.'s solar industry," said Armstrong. "There has been no change to the primary legislation upon which we depend."
The National Grid projected that solar power in the U.K. would no longer need a subsidy in as little as 18 months, due to the falling costs of photovoltaic technologies.
Before it's here, it's on the Bloomberg Terminal.
LEARN MORE