Afghan Forces Say They've Recaptured Kunduz; Taliban Denies
by
Afghan flag now flying over main intersection: police

Taliban says it's back in charge after briefly losing control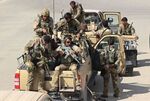 Afghanistan's government said it has retaken Kunduz, a claim denied by Taliban fighters who captured the strategic northern city three days ago.
"Afghanistan's flag is now seen in the main intersection where Taliban had hoisted their white flag on Monday," Sayed Sarwar Hussaini, Kunduz's police spokesman, said by phone from the city's police headquarters. "Taliban suffered heavy casualties and their bodies are everywhere in the city. Kunduz is now under control of Afghan forces."
At about 4 a.m. local time, Interior Ministry spokesman Sediq Sediqqi wrote on Twitter that Kunduz city "is retaken and being cleared from terrorists."
Afghan and coalition forces attacked Kunduz at about 3 a.m. and took over the city for about three hours as Taliban fighters were defending its outskirts, Taliban spokesman Zabihullah Mujahed said by phone, declining to divulge his location.
"The city came under control of Taliban about two hours ago after those fighters arrived back and stormed the city, again," he said.
The battle is testing President Ashraf Ghani as he looks to prevent a Taliban insurgency from spreading to urban centers as U.S. forces withdraw troops. He completed his first year in office this week.
U.S. airstrikes rammed militants on the outskirts of Kunduz after Ghani requested assistance, and local authorities engaged in fierce street fights in one of Afghanistan's wealthiest cities. More than 100 civilians were killed and wounded while 6,000 fled Kunduz, which offers a gateway to China and former Soviet republics.
"All government offices in Kunduz will soon begin functioning and the people will soon return to their normal life," General Murad Ali Murad, commander of Afghanistan's ground forces, told Ghani on Thursday, according to an e-mailed statement from the president's office.
Before it's here, it's on the Bloomberg Terminal.
LEARN MORE