U.S. in Talks With IMF on South Sudan Aid After Peace Deal
by
Donors discussing aid needed to restore economic stability

Assistance seeks to boost prospective transitional government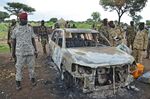 The U.S. and the International Monetary Fund are discussing a rescue package for South Sudan to help rebuild the economy after almost two years of war, a U.S. envoy said.
Officials are in talks over the extent of the financial assistance required to restore macroeconomic stability to the oil-producing nation, U.S. Special Envoy to South Sudan Donald Booth said Monday by phone from New York. South Sudan's economy is projected to contract 7.5 percent this year, while the deficit on its 10.6 billion-pound ($3.6 billion) budget is expected to widen to 5.9 percent of gross domestic product from 3.7 percent last year, according to the African Development Bank.
"South Sudan has a serious budget-deficiency problem that they need to address," Booth said, adding that the U.S. wants to create a stable economic environment that'll support a peace agreement signed last month. He didn't specify how much will be required or whether the IMF or U.S. will extend loans.
The IMF's South Sudan representative, Philippe Egoume Bossogo, said by e-mail that the lender currently has no official position on the matter.
Conflict that erupted in December 2013 has killed tens of thousands of people, forced about 2 million to flee their homes and slashed oil production, the source of most of the government's revenue, by a third to about 160,000 barrels a day. Annual inflation surged to 58.7 percent in August from 51.9 percent the month before, fueled by a shortage of foreign-exchange and higher food prices.
An accord signed by President Salva Kiir and rebel leader Riek Machar in August includes commitments by their sides to a monitored cease-fire and sharing of government positions over a 30-month transitional period scheduled to begin 90 days after the agreement. Violence has continued in the weeks since the pact, with South Sudan's army saying dozens of people have been killed in clashes in the country's north.
Economic Bailout
"The critical thing is what are the South Sudanese willing to put into this," Booth said. "They spent vast amounts of money to fight each other for the past 21 months so they should also be willing to put resources to the peace process and rebuilding of the country."
A bailout is necessary if the transitional government goes ahead, as the ongoing economic crisis could sink the new administration, Casie Copeland, South Sudan analyst for the Brussels-based International Crisis Group, said by e-mail. "But it must be done in such a way that the government changes the policies that brought them to crisis and commits to a set of concrete economic reforms."
This year's United Nations appeal for South Sudan faces a $731 million shortfall and donors need to commit new money and release previous pledges to fund life-saving programs, Oxfam South Sudan's Advocacy and Campaigns Manager Alison Martin said Tuesday in a statement. "Millions of South Sudanese are severely hungry; many more are expected in 2016 due to the long-term effects of the war," she said.
Before it's here, it's on the Bloomberg Terminal.
LEARN MORE