U.S. Stocks Advance, Shaving Worst Quarterly Rout in Four Years
by and
Third-quarter's worst-hit shares help pace the rebound

S&P 500 Index caps strongest session since September 8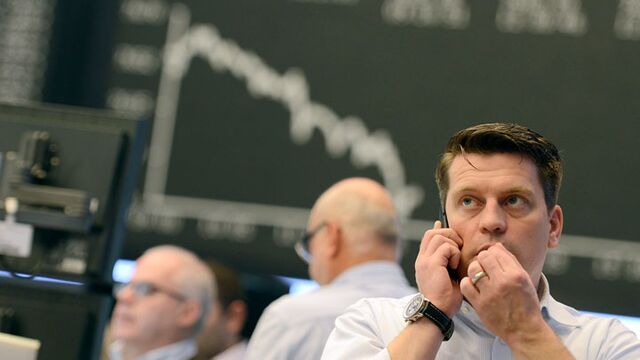 For traders who suffered through the worst quarter for equities in four years, the Standard & Poor's 500 Index's best rally in three weeks Wednesday was little more than a token consolation.
Investors targeted their buying in some of the third quarter's most-battered companies, with energy, raw-material and health-care shares among the leaders of the S&P 500's 10 main groups after falling the most since June. All 10 industries in the benchmark advanced today, while a gauge of volatility had its steepest decline in more than a week.
"We're getting a snapback in some of the beaten-down names, particularly in biotech, and I think that's to be expected after the beating they took," said Lew Piantedosi, vice president of growth equities at Eaton Vance Management in Boston, where he helps oversee almost $14 billion. "There also could be some end-of-the-quarter window dressing going on today."
Investors should expect between $21 billion and $26 billion in buying of equities and some selling of bonds as pension-fund managers rebalance their portfolios at the end of the quarter, Boris Rjavinski, a strategist at UBS AG, wrote in a Sept. 25 report.

The S&P 500 Index climbed 1.9 percent to 1,920.03 at 4 p.m. in New York, the most since Sept. 8. The measure ended the quarter down 6.9 percent. The Dow Jones Industrial Average gained 235.57 points, or 1.5 percent, to 16,284.70. The Dow lost 7.6 percent since June ended. The Nasdaq Composite Index surged 2.3 percent today, while the Russell 2000 Index advanced 1.6 percent to halt eight days of losses.
The Chicago Board Options Exchange Volatility Index has closed above 20 for the past 28 sessions, the longest streak since January 2012. The measure of market turbulence known as the VIX fell 8.7 percent Wednesday to 24.50, the most in seven sessions. About 8.5 billion shares traded hands on U.S. exchanges, 16 percent above the three-month average.
Mixed messages on Federal Reserve interest-rate policy combined with worries of a China slowdown sent the S&P 500 to consecutive monthly declines while creating the most turbulent period for stocks in years. The benchmark is down 9.9 percent from its record set in May, and came within five points Tuesday of its 2015 closing low reached in August. This quarter's retreat has wiped almost $11 trillion off the value of global shares.
The S&P 500 slumped 2.6 in September, and posted its first back-to-back quarterly decline in four years. Energy and raw-material companies were the third quarter's worst performers, plunging more than 17 percent amid concern that weakness in China will curb demand for commodities and crimp global growth.
Trading within raw-materials Wednesday was similar to the broader market. Copper producer Freeport-McMoRan Inc. led gains, up 6.4 percent while also posting the steepest drop since June among materials companies, down 48 percent. Chesapeake Energy Corp. climbed 8 percent today to lead the energy group, while capping a 34 percent quarterly retreat, its biggest since 2008.
Among other recently hard-hit stocks, semiconductors in the S&P 500 advanced the most in three weeks today amid their biggest quarterly swoon in three years. Auto-related companies rose for a second day as a selloff sparked by Volkswagen AG's emissions scandal abated. Delphi Automotive Plc and General Motors Co. added more than 2.9 percent.
Biotech Bounce
Biotechnology stocks halted a selloff that sent the former high-fliers into a bear market. The Nasdaq Biotechnology Index rose 4.5 percent Wednesday, after its longest losing streak since October 2008. The group had slumped 20 percent during the stretch, and is down 24 percent from an all-time high in July.
Biotechs had run up 56 percent to their July high from an October 2014 low. The group has weighed on the Russell 2000 Index, which fell to an 11-month low Tuesday amid its longest string of losses in more than nine years.
Amid today's biotech rebound, Biogen Inc. and Amgen Inc. gained at least 3.2 percent. As evidence of the severity of their recent declines, Biogen posted its biggest quarterly slide -- 28 percent -- in 10 years, while Amgen had its worst performance since 2010.

While stocks rallied Wednesday, investors waiting for an all-clear sign may need to brace for more drama. Strategas Research Partners LLC points out that the S&P 500 has a messy history of bounce attempts before settling on an October bottom, with jerky markets lingering after steep August declines in 2011, 1998 and 1990. In each case, a recovery only emerged after the initial low was undercut by as much as 3.8 percent a month or so later.
"I think the U.S. economy is on the right track, and the equity markets will turn around and have a strong last quarter of the year," said Andrew Brenner, the head of international fixed income for National Alliance Capital Markets. "I wouldn't be surprised to see stocks bottom the first full week of October. Then I think we'll probably do OK between now and the end of the year because I believe the U.S. economy is doing just fine."
Steady Hiring
The U.S. equity benchmark is down 3.8 percent since the Federal Reserve held back from raising interest rates on Sept. 17, citing global market turmoil and a slowdown in China as reasons for standing pat. Fed officials, including Chair Janet Yellen, have since suggested that the U.S. economy is sturdy enough to handle higher rates this year. Traders aren't convinced, as they price in a 41 percent chance of higher borrowing costs in December, and about 50 percent odds of an increase by January.
As policy makers closely watch the strength of labor markets for potential cues on when to raise rates, a report today showed companies stepped up hiring in September, indicating the job market is standing firm in the face of weaker global demand.
The September jobs report issued by the Labor Department Friday may show private businesses added about 200,000 employees after a 140,000 increase in August, according to the median forecast of economists surveyed by Bloomberg. The unemployment rate probably held at 5.1 percent, the lowest since April 2008.
Among shares moving on corporate news, Ralph Lauren Corp. jumped nearly 14 percent, the most in more than nine years as Ralph Lauren steps down as chief executive. He will hand the reins to Stefan Larsson, a rising retail star credited with reviving Gap Inc.'s Old Navy brand. Gap lost 5.7 percent to a three-year low.
Advance Auto Parts Inc. closed at an all-time high, up 11 percent. Activist investor Starboard Value LP confirmed its 3.7 percent stake in the auto-parts retailer, and said opportunities exist "to create substantial value for all shareholders."
Before it's here, it's on the Bloomberg Terminal.
LEARN MORE