These Charts Show How $50 Crude Cripples Oil-Addicted Norway
by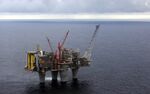 Norway needs to kick its oil addiction and do it fast.
The Nordic nation navigated through the global financial crisis by using its massive sovereign wealth fund as a backstop, helping it emerge largely unharmed from a disaster that the rest of the world is still recovering from. 
But now a 60 percent drop in oil prices has hit Norway right in the jugular. Growth has come to a virtual halt in a nation that has counted on petroleum for almost a quarter of its output. Its reliance on crude has increased since 2000, with the number of oil-related jobs doubling and now accounting for one in nine.
"At best, we will hover around zero growth, but there is a risk that we will enter a recession," said Marius Gonsholt Hov, an economist at Svenska Handelsbanken AB in Oslo. "We can't ignore the facts and say that this is related to just negative sentiment -- the Norwegian economy already slowed down markedly in the first half of this year."
To be sure, the nation has strong automatic stabilizers and still has that wealth fund -- now valued at $820 billion, of which it can use as much as 4 percent to plug budget holes. The government is set to release its 2016 budget next week and has signaled it will use the petroleum wealth to prop up an expansion and stop the economy from hemorrhaging jobs.
The problem is that when it comes to exports, Norway will have a lot to make up for:

What's more, the single most important growth-motor is set to slow even further as oil companies operating in Norway reduce their investments:

Oil companies are also cutting jobs. This is not only driving up unemployment, it is also putting Norway at risk of loosing the expertise that helped develop its oil industry as many ex-pat workers look abroad for jobs.
Businesses in Norway are growing ever more pessimistic as the mainland economy can't pick up the slack:

Some parts of the economy are benefiting -- the drop in oil prices has weakened the krone, providing relief to Norway's non-oil businesses. Yet that wasn't enough for the central bank to refrain from cutting rates to a record low last week, as it predicted a more protracted economic downturn.

Before it's here, it's on the Bloomberg Terminal.
LEARN MORE