Cars
Tesla Model X Pricing: A Safe $132,000 Bet
The new electric SUV is expensive, there's no doubt. But signs point to success in the American market.
by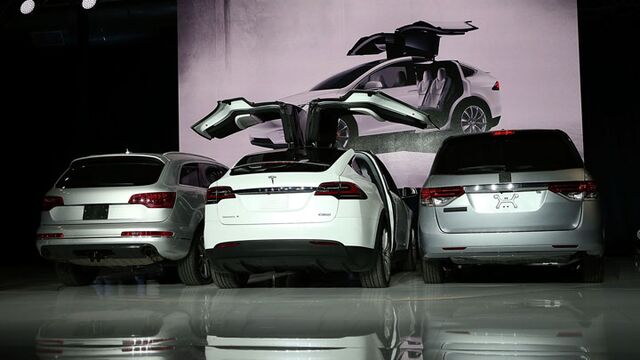 On Tuesday at a warehouse party in Fremont, Calif., Elon Musk spent an hour explaining Tesla's new Model X to a crowd of hundreds of cheering media, VIPs, and tech geeks.
The car is certainly impressive: It gets 257 miles on one charge and can hit 60 mph in 3.2 seconds in Ludicrous mode. Plus, it has those stunning and practical falcon-wing doors.
It also has a price tag as shocking (to your wallet) as those doors: The Signature Model X that Musk introduced, loaded with extra features, required a $40,000 deposit and comes with a $132,000 price tag, plus delivery and other fees. (Tesla has yet to announce what financing options will come along with its new ride.) 
That's a lot of money—nearly twice the cost of the base Model S sedan—and considerably more expensive than the comparable-in-size Porsche Cayenne S E-Hybrid, which costs $77,200.

But when you compare its performance numbers and power with similar crossovers, the price tag gains some clarity.
For instance, that Porsche E-Hybrid is far slower than the Model X. It goes from zero to 60 mph in 5.4 seconds, has a top speed of 151 mph, and gets 416 combined horsepower between its electric motor and conventional engine. Meanwhile, the Model X has that 3.2-second sprint time plus 259 horsepower in the front and 503 horsepower in the rear, with a top speed of 155 mph. 
There's not a lot of daylight between those two top speeds, but it doesn't matter—you're not driving that fast in your SUV. For day-to-day maneuverability (and fun), it's the pickup that matters; that quiet whoosh of power somehow never seems to get old. And it would take a Porsche Cayenne Turbo S to approximate the X's acceleration: That car gets to 60 mph in 3.8 seconds. And costs $157,300.  
What's more, Tesla estimates a California customer would pay $112,000 on the Model X after federal and state tax incentives and five years of gas savings. OK, that's a lot of asterisks, but company executives also say the soon-to-come base model of the Model X will cost far less than the Signature line we saw this week, a mere $5,000 or so more than the $75,000 Model S.

If that happens, an $80,000 Tesla SUV will sit on a par with the price of other crossover SUVs in the luxury market. According to Edmunds.com, the average transaction price for a large mainstream SUV is $52,497—$20,000 higher than a large sedan—and $82,900 for luxury rigs such as the Cadillac Escalade.
The Cost of Electric
In the luxury field are plenty of options that cost less than even the future base-line Model X. They just don't perform as well. Porsche's $58,300 base-level Cayenne, Audi's $52,500 Q5 Hybrid, the $57,700 BMW X5 Diesel, and the $52,500 Mercedes GLE 300 Diesel are all far less quick (by as much as 1.5 and 2 seconds) than Model X, with less horsepower. Bentley, of course, has an SUV far more expensive than any of those; its Bentayga will run $230,000 before upgrades.
The big gilded carriages from Land Rover, Rolls-Royce, Maserati, and Lamborghini are and will be, as the case may be, far more expensive. They're part of the pricing upswell that has flooded the luxury SUV market, thanks to American, Asian, and Middle Eastern buyers starving for indulgently large and increasingly cosseted conveyances.
But the Tesla is going to win or lose in America, and luckily for Musk, the odds there are in its favor. Sale of all SUVs in the U.S. passed 1.5 million last year for the first time since 2007, when automakers sold 2.2 million, according to AutoData. That is a 64 percent increase over their all-time low, in 2009, of fewer than 1 million sold. Last year, Porsche alone sold 16,205 Cayenne SUVs in the U.S., double what it sold in 2010. 

Prices are rising, too. According to Kelley Blue Book, the average transaction price of a compact SUV/crossover this month was $27, 316, up 2.5 percent over September 2014.  For midsize SUVs from luxury brands, that price was $52,288. For large luxury SUVs, the price was $66,555.
More than ever, once wealthy individuals identify a car they want, they have no problem paying dearly for it.
Taking a Different Tact
Thing is, despite the luxury trappings, innovative design, and performance numbers that earn Tesla's higher-end variants a slot in the same category as Porsche and even Lamborghini, Musk has said his Model X is meant for mass consumption. Company executives have said it was designed to appeal especially to women, who make up 53 percent of the SUV market in the U.S.
The $132,000 price tag will cut out middle-class women, to be sure. But the $80,000 version will be accessible to a wider swath. It also helps that the third-row back seat is genuinely as accessible as the driver's seat and that the double trunk is large enough to hold strollers and a large dog bed with no trouble.
Moreover, since it runs on electricity and has no transmission, the Model X doesn't need the oil changes, belt swaps, hose checks, or other standard maintenance procedures that require the time and effort that many women, especially suburban mothers, are loath to spend on autos.
That saves money as well as headaches. According to Edmunds.com, the average luxury sedan costs $7,600 in maintenance over five years; a Porsche Cayenne Hybrid costs $6,260 over the same period.  
Of course, with its lightning reflexes and dual-horsepower heart, Model X is not average by any stretch of the imagination. But look at those falcon wings—you knew that anyway. 
Before it's here, it's on the Bloomberg Terminal.
LEARN MORE