Spanish Economy Loses Some Momentum, Central Bank Estimates
by
Gross domestic product probably expanded 0.8% in third quarter

Bank of Spain preliminary estimate based on indicators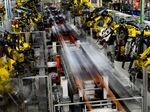 The Spanish economy may have grown 0.8 percent in the third quarter buoyed by internal demand in the euro zone's fourth largest economy even as the pace of growth slowed from the previous three-month period, the Bank of Spain said.
Gross domestic product expanded 3.4 percent from a year ago, the Madrid-based central bank said in its monthly bulletin published Wednesday, citing preliminary data based on available indicators. Economy Minister Luis de Guindos had said the pace of growth in the third quarter would be similar to that of the second quarter when it expanded 1 percent.
As Spain braces for elections in December, the economy is growing at the fastest pace in eight years on cheaper oil prices, a competitive euro exchange rate and the European Central Bank's quantitative-easing program. Even so, the central said that indicators pointed to a "slight loss of vigor" in the spending components of GDP and that the risks that Spain's growth deviates from that seen in its central scenario have increased because of external factors such as China's slowdown.
"Essentially what we're seeing is a deceleration pegged to a reduction in
public expenditure going into the second half as the government tries to
meet its deficit target," Miguel Cardoso, chief Spain economist at Banco
Bilbao Vizcaya Argentaria SA in Madrid, said in a telephone interview.
"Exports are holding up well and there is still pent up demand among
consumers."
The central bank said Spain's inflation index could end the year "with a slightly positive rate," but would fall an average 0.5 percent over the year, compared with its estimates in June of a 0.2 percent decline. The regulator predicts average inflation of 0.8 percent in 2016 compared with the 1.3 percent it had estimated three months ago.
Uncertainty over inflation expectations has increased, the bank said, citing doubts surrounding global growth and the evolution of oil prices.
Spain's National Statistics Institute is set to publish data for third-quarter GDP on Oct. 30. The Bank of Spain said the data published Wednesday was more preliminary in nature than usual.
Before it's here, it's on the Bloomberg Terminal.
LEARN MORE