House Passes Spending Bill to Avoid U.S. Government Shutdown
by and
Votes follow dispute over Planned Parenthood funding

House Republicans set election to replace Boehner for Oct. 8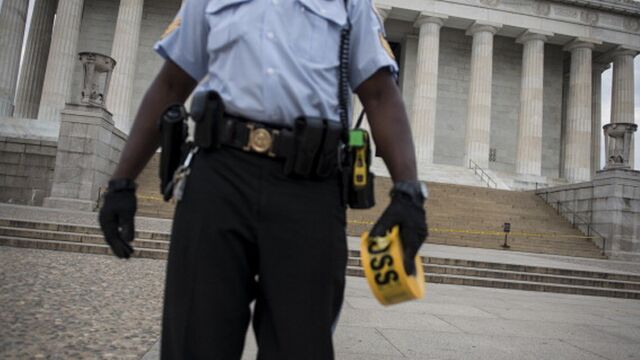 Congress passed a stopgap U.S. government spending bill hours before a shutdown deadline Wednesday, a temporary win that provides no road map for how deeply divided lawmakers will handle their next must-do priorities.
The 277-151 House vote, after Senate passage earlier in the day, came as current funding was due to expire at midnight. President Barack Obama signed the measure into law. Democrats helped House Republicans quash an effort by conservative Republicans to remove funding for Planned Parenthood from the bill, after the conservatives' rebellion helped push Speaker John Boehner to announce he'll resign at the end of October.
"We all know that shutting down government is always a mistake," Republican Representative Tom Cole of Oklahoma said during floor debate. "It's simply the wrong thing to do for the American people. They sent us here to get things done."
The spending measure provides only a temporary solution by funding the government through Dec. 11, when conservatives will another opportunity to try to defund Planned Parenthood, the women's reproductive health-care service. Before then, Congress also must replenish federal highway funding and raise the debt limit.
'Dangerously Close'
Earlier Wednesday, Senate Minority Leader Harry Reid, a Nevada Democrat, said, "Republicans brought us dangerously close to a shutdown," as his chamber passed the spending measure 78-20. 
In the House, 186 Democrats were joined by 91 Republicans in voting for the spending bill, while all of those in opposition were Republicans. Among those voting in favor was Majority Leader Kevin McCarthy of California, a candidate for speaker, defying conservatives who were willing to shut down the government.
Among contenders for majority leader, Steve Scalise of Louisiana backed the spending bill while Tom Price of Georgia voted against it.
Obama will sign the measure when he receives it from Congress, White House Press Secretary Josh Earnest said after the House vote.
"The American people deserve far better than last-minute, short-term legislating," he said in a statement.
'Topline Limit'
At the same time, Senate Majority Leader Mitch McConnell said he and Boehner plan to begin discussions with Obama soon on a "topline" government spending limit for the next two fiscal years.
Obama spoke to Boehner and McConnell on Sept. 17 at the two leaders' request, and reiterated his call for congressional Republicans to sit down with Democrats to work out a budget, an administration official said. The administration's goals for a spending deal include longstanding requests: end spending caps, raise the debt ceiling and renew the authorization for the U.S. Export-Import Bank.
The official, who requested anonymity to discuss internal deliberations, didn't say whether the administration was seeking to reach a two-year budget deal with Republican leaders. Earnest has repeatedly said it's up to Democrats and Republicans to determine the parameters of a long-term spending plan.
'Party Lines'
Earnest told reporters Wednesday that the administration is seeking "conversations that prevent a government shutdown, and conversations that ensure that our national security and economic priorities are adequately funded." He added, "Republicans have not succeeded and will not succeed in passing budget legislation strictly along party lines."
House Appropriations Committee Chairman Hal Rogers, a Kentucky Republican, said he expects a budget deal to be negotiated at the leadership level in coming weeks. He said he needs an agreement to be reached by about Nov. 11 to give appropriators time to hash out a giant detailed spending bill by the Dec. 11 deadline.
"What we need from them is a number" for total spending, Rogers said.
On the stopgap spending measure, McConnell and Boehner had said that although they too want to cancel federal funds for Planned Parenthood, they wouldn't go along with conservative Republicans' willingness to shut down the government over the issue.
Undercover Videos
Conservatives have said they are outraged by undercover videos purporting to show Planned Parenthood officials discussing reimbursement for providing tissue from aborted fetuses to researchers. The organization, which receives Medicare funds to provide reproductive health care to women, has said it doesn't sell fetal tissue for profit, and instead receives the cost of collecting and delivering it.
The spending bill, H.R. 719, gives the Obama administration much of what it asked for. It provides funding at an annual rate of $1.017 trillion, including an extra $700 million for fighting wildfires, more than the White House request of $450 million. The bill sets war funding at an annualized rate of $74.7 billion, more than the $58 billion Obama sought.
With government funding settled for the next few months, Congress has another big item to resolve before Boehner leaves: how to provide new money for the federal highway fund. Congress has passed 34 stopgap highway funding bills in the last six years, and the most recent one is due to run out Oct. 29.
Debt Limit
The 18.4 cents-a-gallon federal gasoline tax that the Highway Trust Fund has relied on no longer covers the cost of the transportation program as Americans drive less and buy more fuel-efficient cars. Republicans have refused to consider raising the tax.
Congress also will be asked to raise the U.S. debt limit, perhaps in November. Treasury Secretary Jacob Lew has said measures used by the Treasury Department to hold off default would last at least through late October and probably longer. Boehner had to rely on Democratic votes to get a previous debt limit increase approved.
In December, a new government shutdown threat could arise if conservatives again try to attach language defunding Planned Parenthood to the next government funding measure.
Speaker Election
Boehner on Wednesday set an Oct. 8 election to choose the next speaker. McCarthy, the chamber's second-ranking Republican, is the front-runner to replace him.
Representative Markwayne Mullin of Oklahoma, one of about 30 Republican conservatives who had said they were prepared to shut down the government over Planned Parenthood, sent an e-mail to fellow Republicans on Monday complaining that the short-term spending measure was being "shoved down our throats at the eleventh hour."
Mullin said Americans will remain "fed up" with government unless Republicans use the House leadership change to "hire leaders instead of promoting them based on longevity."
House Republicans met Tuesday evening to discuss their priorities and leadership. Asked what was being accomplished with the meeting, said Cole, a Boehner ally. "People will feel better when they leave," he said.
"It was everybody saying the right things but very few specifics," Republican Peter King of New York told reporters after the session broke up. "It was candid and people talked to get it out of your system. It served a purpose. Anger was in there. There was a lot of anger from last week on all sides."
Before it's here, it's on the Bloomberg Terminal.
LEARN MORE