Rembrandt Tussle Ends With French, Dutch Buying Works Together
Martijn van der Starre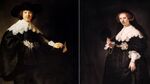 France and the Netherlands will jointly buy two rare works by Dutch master Rembrandt van Rijn from the Rothschild family, ending a tussle that started after the Dutch offered to purchase and repatriate both masterpieces.
"The joint acquisition of these priceless treasures exemplifies the shared intention to reinforce the deep cultural ties between the two countries," Culture Ministers Fleur Pellerin and Jet Bussemaker from France and the Netherlands respectively said in a joint statement posted on the Dutch Culture Ministry's website.
The Dutch government and Amsterdam's Rijksmuseum said Sept. 21 they intended to buy one painting each, for 160 million euros ($179 million) in total. France then announced a bid to purchase one of the 17th-century masterpieces for 80 million euros for the Louvre museum. The joint acquisition will strengthen the cooperation between the two museums, Pellerin and Bussemaker said Wednesday.
Officials in Paris and The Hague started tussling over the paintings after previously announcing a plan to buy them jointly. Pellerin and Bussemaker have been working closely for several months to secure the agreement, through which the two paintings will be exhibited together, alternatively in the Rijksmuseum and the Louvre, they said Wednesday.
The works, portraits of Maerten Soolmans and his fiancee Oopjen Coppit, were purchased by the Rothschild family in the 19th century. The two paintings are exceptional as the Dutch master rarely painted full-length portraits, and most of his work today is in museums and not in private hands.
The French culture ministry confirmed the joint purchase when contacted by Bloomberg News and repeated the Bank of France will sponsor France's 80 million-euro share.
Before it's here, it's on the Bloomberg Terminal.
LEARN MORE