NCAA Fails to Set Aside Ruling Its No-Pay Rule Cheats Athletes
Pamela MacLean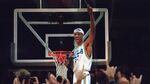 The National Collegiate Athletic Association's longstanding refusal to pay its athletes was deemed illegal by an appeals court that said a 2014 ruling offering them modest compensation needs to be revisited.
The U.S. Court of Appeals in San Francisco, while upholding a landmark decision opening the door to college athletes being paid, said Wednesday that a fee formula imposed by a judge isn't the appropriate fix for antitrust violations.
The 2009 lawsuit by ex-college basketball player Ed O'Bannon challenged the treatment of students as amateurs as college basketball and football evolved into multibillion-dollar businesses, with money flowing to the NCAA, broadcasters, member schools and coaches -- everyone but the players.
Before it's here, it's on the Bloomberg Terminal.
LEARN MORE