Meet the Hipster Real Estate Developers Building for Millennials
Young real estate developers are using young investors' money to put young people in young neighborhoods.
By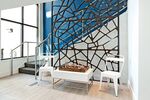 John Chaffetz is showing off an apartment building that his development firm, Timberlane Partners, just bought for $7.2 million. He admits it doesn't look so hot. "This has been treated like a prison camp," he says of the 32-unit building in Los Angeles's Echo Park neighborhood. Steel bars stick out of a cinder-block fence, threatening to impale someone. The front door is an ugly metal gate.
But an organic supermarket opened around the corner in November, and a Blue Bottle Coffee just arrived down the block. There's a farmers market nearby each Friday, and five minutes up Sunset Boulevard is the Silver Lake neighborhood, a nest of hipster cafes and places to buy rare cheese and handmade clothes. Timberlane plans to tear down the building's security fencing, put terracotta back on the roof, and repair windows that date to its pre-1930 construction. "The goal," Chaffetz says, "is for this to look like a Moroccan boutique hotel."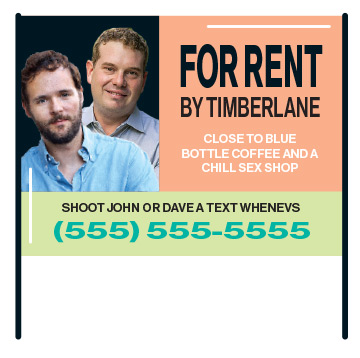 If you're the sort of twentysomething who needs rhubarb bitters in her cocktail, you're not going to live just anywhere—and Timberlane co-founders Chaffetz, 32, and Dave Enslow, 37, are counting on that. Much of their Seattle- and Los Angeles-based firm's strategy is straight out of the developer playbook: buy neglected apartment buildings in promising neighborhoods, renovate, raise rents, and fill them with young professionals. But when fixing up a property, Timberlane takes extra care to provide touches it can market specifically to the perceived whims of millennial tenants. Historically accurate details are a priority. Midcentury Palm Springs architecture inspired the revamp of one dated building, replacing "a lobby that looked like a 1982 funeral home," Chaffetz says. The company will typically expose brick walls and refinish hardwood floors rather than slap down carpet. It adds amenities for healthier lifestyles. At one site, Timberlane sacrificed five apartments to create a 3,000-square-foot gym with a yoga studio and climbing wall. A building on a popular Seattle bike path got a large bicycle storage and repair room. Where older renters might value ease of parking, millennials want walkable neighborhoods. "They want to drop off their car on a Friday and not see it again until Monday," Enslow says.

So far, the strategy's working. The four-year-old firm earned a 24 percent return on its first five buildings. An additional seven sites, owned for at least a year, are producing annual yields—cash as a share of investment—of 11.2 percent. Investors funded an expansion into Salt Lake City in 2013 and Los Angeles in 2014, and Timberlane now has a real estate portfolio of $160 million, up from less than $80 million at the end of 2013.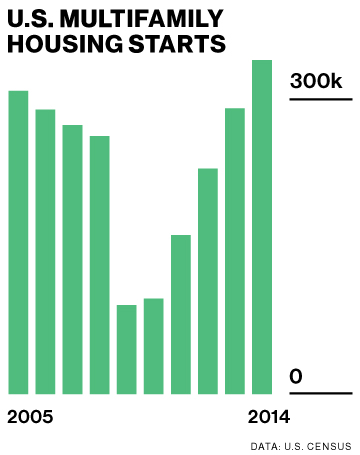 The firm started with a much less hip strategy. Its first investments were in the Seattle suburbs, in generic apartment buildings with large parking lots and nothing to walk to. Enslow's family had owned similar complexes in the area for decades. But both Enslow and Chaffetz, a former Morgan Stanley banker, were living near the trendy Capitol Hill neighborhood. They and their friends had no interest in a "home out in the suburbs with a white-picket fence," Enslow says.
They started hunting for properties they themselves would want to live in, with prime locations and unique amenities. Together they bought an old house. They painted the walls a stark white, added a modern cedar fence, and kept an old potbelly stove. It rented "in a nanosecond," Chaffetz says, to Amazon.com employees fresh out of college. The pair bought another building that housed a gourmet sandwich eatery and a local Seattle landmark, a woman-friendly sex shop. "Distinctiveness is always valuable," Chaffetz says. "It's something that new can't compete with."

Timberlane's investors are young, just like its tenants; Chaffetz estimates that about half the money raised comes from clients under 40. An example is John Knorring, 33, a commodities trader in New York who's been investing with Timberlane for three years. He had to be convinced that the firm had the right strategy to expand in Los Angeles. "You can't just buy in any city, anywhere," he says. "You have to buy the right spot and position it in a way that people want to live there."
Timberlane looks for buildings with studio and one-bedroom apartments and finds tenants willing to sacrifice space for proximity to cool bars and restaurants. "The unit is more of a place to crash and take a shower than a place to hang out and entertain," Enslow says. Timberlane has added roof decks, entertainment rooms, fire pits, and other communal spaces to some buildings. "We were looking for ways to extend the living space, so people don't feel locked up in their apartment," says Gerard La Caille of the design firm Saltaire Craftsmen, which worked on some of the renovations. Such touches allow Timberlane to raise rents in the buildings it buys, usually by 15 percent to 20 percent.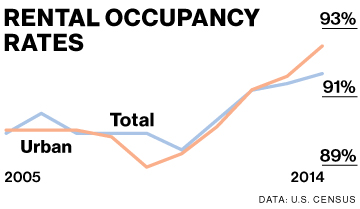 The risk to Timberlane is that today's millennial lifestyle priorities could change as the group ages. If tenants want to stay in cities after they have children, they'll need good schools. A resurgence of crime could also make urban living less appealing. And with many workers' wages flat, there's a risk of cool neighborhoods getting simply too expensive to continue drawing the young. "The rents still have to match up" with what people can afford, says Pete Reeb of John Burns Real Estate Consulting.
Enslow and Chaffetz say they worry that prices have peaked in many places. They've looked at expanding into Denver and San Francisco. "But we're very cautious," Chaffetz says, partly because of high property prices and partly because they don't yet have expertise in those markets.
Timberlane's bet, though, is that a cool apartment in a walkable urban neighborhood will always be valuable. It's putting together a portfolio it plans to hold for decades, Chaffetz says. "I don't see a really charming property in Silver Lake being undesirable in 10 years just because millennials got older."
Before it's here, it's on the Bloomberg Terminal.
LEARN MORE