M&A's Fiorina Moment: Tara Lachapelle
by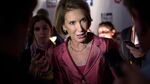 Carly Fiorina has been excoriated for bad deal-making at Hewlett-Packard. But Corporate America seems to be eagerly following her lead.
Critics have skewered the Republican presidential candidate's boasts about how much Hewlett-Packard's revenue grew while she was running the company. They point out that the growth was an illusion caused by her aggressive acquisition strategy -- namely the $25 billion purchase of Compaq, a disaster for the company and Fiorina's career.
Fiorina's example should be a cautionary tale for other chief executives catching M&A fever. Instead, investors have been encouraging them to do pretty much as Carly did.
The double standard is particularly dangerous because now it's not just Hewlett-Packard at risk -- it's a large chunk of the Standard & Poor's 500, the health of which is key to the U.S. financial system and economy.
Consider some data: Global mergers and acquisitions are headed for a record this year, with $2.6 trillion logged as of the third quarter. Thirty-eight companies are each doing deals worth $10 billion or more, and some transactions mark records for their respective industries. For example, the $37 billion merger of chipmakers Avago and Broadcom is a tech record. And Anthem's $50 billion purchase of Cigna, along with Aetna's $29 billion takeover of Humana, are the biggest health-insurance deals ever.
In the U.S., takeovers have become almost 50 percent more expensive in just two years' time. From 1995 through 2014, acquirers paid a median Ebitda multiple of about 10. Now, that multiple is almost 16.

While Lloyd Blankfein, the head of M&A powerhouse Goldman Sachs, says that most of these deals are "healthy," here's a quibble: The S&P 500 index is saddled with a record $2.6 trillion of goodwill, compared with just under $2 trillion four years ago, when deal activity was fairly quiet.
Goodwill isn't always bad. It refers to the price paid for a company above book value, or net assets. And this year, sellers in the U.S. are fetching the highest premium to book value since 1997. If a buyer overestimates the value of the assets it acquired, that value needs to be written down, which reduces earnings. And while that doesn't affect cash flow, it signals to investors that the acquisition wasn't worth what the company paid.
Not only are targets getting expensive, but investors have also been driving up the stock prices of acquirers. In so doing, they have emboldened the overheated M&A environment. The press releases announcing mergers these days almost always promise significant growth and accretion, welcome words for big companies that lack the innovation needed to increase revenue and profit on their own.
It's the same math Fiorina uses, which we know doesn't work in the long run. When a company with $40 billion of revenue buys another company with $40 billion of revenue, the CEO doesn't get to say she grew sales 100 percent.
But while Fiorina is criticized for making this type of claim about Hewlett-Packard, other companies get a pass.
Take Valeant, for instance. The junk-rated pharmaceutical company has loaded up on debt to fund continual acquisitions that initially give big boosts to revenue. Gimme Credit analyst Vicki Bryan has perhaps put it best: "Valeant's strategy depends on people continuing to drink this Kool Aid," she said in an interview in May 2014.
Valeant's debt is now more than 7 times the Ebitda it generated in the past 12 months. To maintain the rate of growth it has achieved the past few years, the company needs to keep buying assets. 
This approach has mostly worked out for Valeant so far. But what happens if interest rates rise or there's an unexpected slowdown in one of its leading products? It has a lot of debt to pay off and won't be able to get financing as easily to do more sizable acquisitions. It's a strategy that doesn't leave much room for things to go wrong. Valeant says that, even though M&A is important to its strategy, it's focused on organic growth, too.
Investors remain bullish on Valeant, as they do with many of this year's other big acquirers. The company's stock is up 15 percent for the year, even after a two-day plunge on Monday and Tuesday after Democrats in the U.S. House asked to subpoena Valeant for documents relating to drug price increases.
Broader market turbulence hasn't slowed down M&A yet, either. September had $299 billion of deals, among the busiest months this year. The quarter ended with $973 billion, the busiest three-month period since 2007.
Given the rich takeover values, it might not be such a bad thing to see M&A cool off a bit. It might let some CEOs spend more time doing due diligence on the big, risky mergers in their pipeline and avoid Fiorina's mistakes.
Before it's here, it's on the Bloomberg Terminal.
LEARN MORE