Labour's Corbyn Says Nuclear Weapons No Help to U.S. on 9/11
Robert Hutton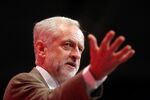 Jeremy Corbyn, the new leader of the U.K.'s opposition Labour Party, used the Sept. 11 attacks on New York and Washington to defend his stance against nuclear weapons.
"Nuclear weapons are weapons of mass destruction, they take out millions of civilians," Corbyn told reporters at his party's annual conference in Brighton, southern England, on Wednesday. "They didn't do the U.S. much good on 9/11. The problems of this world are not huge wars."
The suicide strikes in 2001 killed almost 3,000 people. Corbyn invoked them as he defended a statement in a BBC Radio interview earlier Wednesday that if he became prime minister, he would never authorize the use of Britain's nuclear deterrent.
That answer had already been attacked by his defense spokeswoman, Maria Eagle. "I don't think that a potential prime minister answering a question like that, in the way in which he did, is helpful," she told the BBC.
Prime Minister David Cameron, visiting Jamaica, seized on Corbyn's words.
"The independent nuclear deterrent that we have in Britain is a vital insurance policy for our nation in what is a very dangerous world," he told reporters. "And, frankly, the way the Labour leader has answered that question demonstrates that Labour can't be trusted with our national security, which after all is the most important duty of government."
Corbyn has made controversial comments linked to Sept. 11 before. In 2011, following the killing of al-Qaeda leader Osama Bin Laden, he told Iranian television that the failure to put him on trial represented "an assassination attempt and yet another tragedy upon a tragedy upon a tragedy."
Change Mandate
Labour managed to avoid a public debate on dropping support for Britain's Trident nuclear-weapons system after the conference voted not to discuss it. However, Corbyn raised the issue again in his conference speech on Tuesday, saying he had a mandate to change the party's position.
Because Cameron's Conservatives have a majority in the House of Commons, Labour would be unlikely to be able to block the replacement of Trident, a decision due in the next year. However, the Tories see it as an opportunity to show up splits within Labour and replay political battles from the 1980s.
During the 1987 general-election campaign, a Conservative poster showed a British soldier with his hands up, captioned "Labour's Policy on Arms." After Labour was heavily defeated, it shifted position to support nuclear weapons.
Before it's here, it's on the Bloomberg Terminal.
LEARN MORE