Impala Platinum CFO Is Best-Paid Official as CEO Forgoes Bonus
by
CEO Goodlace refuses pay rise as profit falls to 18-year low

Coronation replaces PIC as Impala's largest shareholder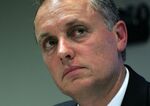 Impala Platinum Holdings Ltd. Chief Executive Officer Terence Goodlace forewent a pay increase and bonuses for a third year as a plunge in prices dragged the no. 2 producer of the metal's profit to an 18-year low. Chief Financial Officer Brenda Berlin became the company's best-paid official.
Goodlace got paid 7.5 million rand ($542,000) in salary and benefits in the year ended June 30, the Johannesburg-based company said in an e-mailed copy of a notice to shareholders Wednesday. Berlin's pay rose 43 percent to a total of 8.6 million rand, which included a 1.4 million-rand bonus and a 2 million-rand retention payment.

"Since joining the company in 2012, he has not taken an increase nor participated in any long- or short-term incentive schemes," Impala said in the notice, referring to Goodlace. "He remains resolute in his decision based on low platinum-group-metal basket prices and the financial crisis facing the platinum industry."
The world's largest platinum producers have been squeezed by a drop in prices to levels at the lowest since 2008. Impala's shares have tumbled to the weakest in more than 13 years as the company is closing shafts, cutting jobs and selling shares to preserve cash and fund projects. It operates mainly in South Africa, which holds more than 70 percent of global reserves of the metal.
Impala's annual earnings excluding one-time items were 0.36 rand a share during the period, the lowest since 1997, according to data compiled by Bloomberg.
Goodlace's total pay is less than half of what Chris Griffith, the CEO of Anglo American Platinum Ltd., the largest producer, earned in the year ended Dec. 31. Griffith was paid 18.5 million rand in salary, benefits, bonuses, shares and other pay, the Johannesburg-based unit of Anglo American Plc said in its annual report.
Coronation Fund Managers Ltd. replaced South Africa's Public Investment Corp. as Impala's largest shareholder at June 30, according to the annual report. Coronation, the Cape Town-based company that manages more than $52 billion in assets, held an 18.2 percent stake in the company at that date and increased this to 20.02 percent, Impala said Aug. 19.
The PIC's holding decreased to 13 percent from 14.1 percent, while Royal Bafokeng (Pty) Ltd. is Impala's second-largest holder with a 13.2 percent stake, the report showed.
The PIC, which handles South African public workers' pensions, is the continent's biggest money manager.
Before it's here, it's on the Bloomberg Terminal.
LEARN MORE