Glencore Tracks London Recovery in Hong Kong as Miners Climb
by
Stock jumped 17% in London after Monday's 29% plunge

Company says there are `absolutely no solvency issues'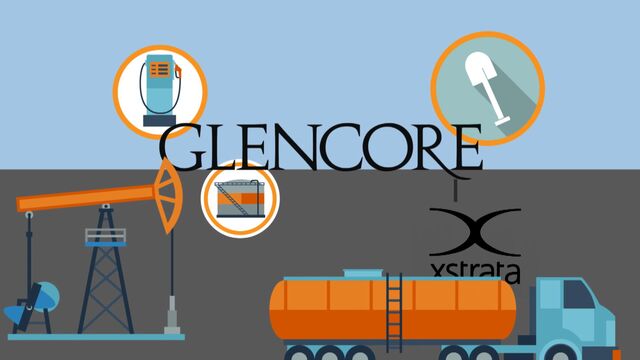 Glencore Plc, the commodities group that's lost almost $45 billion in market value this year, rallied as much as 18 percent in Hong Kong after saying Tuesday it can withstand current market conditions.
The gain tracked the 17 percent jump to 80.25 pence in London yesterday, which recouped some of the slump on Monday that was driven by concern the company has too much debt to cope with the declines in commodity prices. Even so, Glencore's credit-default swaps rose on Tuesday, signaling the company has a 53 percent chance of default in five years, according to data from S&P Capital IQ's CMA.
"Our business remains operationally and financially robust – we have positive cash flow, good liquidity and absolutely no solvency issues," the company said in a statement. "Glencore has no debt covenants and continues to retain strong lines of credit and secure access to funding."
Glencore investors including Legal & General Group Plc had pushed the firm to break its silence saying the company faced a "quasi-Lehman moment," where rumors about the company's viability hurt the stock amid a lack of information from its leadership.
"Investors can overreact on limited information," said Keith Pilbeam, a professor of economics and finance at City University London. "You can't just sit back and take a 30 percent hit to your share price, this you have to react to."
Ongoing Worries
The rebound notwithstanding, the assurances from Glencore are unlikely to put to rest the questions swirling around the company. Indeed, the remarkable, two-day run in the London stock market -- down 29 percent Monday, up 17 percent Tuesday -- only adds to concerns that the industry is opaque. Glencore rose HK$1.20 at 10:03 a.m. on Wednesday in Hong Kong to HK$9.88.
Rival miners also partially reversed Tuesday's declines, with Rio Tinto Group climbing as much as 2.6 percent in Sydney, BHP Billiton Ltd. gaining as much as 1.8 percent and Fortescue Metals Group Ltd. up as much as 3.9 percent. The S&P/ASX 300 Metals and Mining Index, which tracks the main 32 mining stocks in Australia, climbed 0.5 percent as of 12:04 p.m. in Sydney, after falling 5.5 percent Tuesday.
Glencore has been embroiled in a China-led slowdown that's hit prices for commodities from oil to copper to coal, heightening worries about its debt and sending the shares down 73 percent this year. To cope, Chief Executive Officer Ivan Glasenberg is working on a debt-reduction plan that includes selling assets, halting the dividend and a $2.5 billion share sale completed earlier this month.
The stock rose earlier on Tuesday as analysts said the rout probably didn't reflect the company's true value and Citigroup Inc. wrote management should consider taking the company private.
"Unless you think commodity prices are going close to zero, then this was overdone," Robin Bhar, an analyst at Societe Generale SA, said by phone from London.
Coal, Wheat
Glencore, based in Baar, Switzerland, trades everything from wheat to oil to cobalt. It's the world's biggest exporter of power-station coal, with more than 30 mines in Australia, Colombia and South Africa and is among the top three agricultural exporters in Russia, the European Union, Canada and Australia. The company controls more than 150 mining and metallurgical, oil production and agricultural assets and employs about 180,000 people.
The cost of insuring its debt against default for five years fell to a spread of 857 basis points as the stock climbed in London on Tuesday, down from 938 basis points earlier in the day, according to CMA.
Glencore's 1.25 billion euros ($1.4 billion) of 1.25 percent bonds maturing March 2021 rose 1.4 cents on the euro to 70 cents on Tuesday, the first increase in seven days, according to data compiled by Bloomberg.
In the first half, Glencore reported an adjusted net profit of $882 million, down from $2 billion a year earlier. The trading business reported earnings before interest and tax of $1.07 billion.
Shrinking Value
At its height in 2014, Glencore was worth more than $85 billion after its $29 billion all-share takeover of Xstrata Plc, then the world's biggest coal exporter. Now, the market value has shrunk to $17 billion as investors fled the company, which carries more debt than its rivals.
The company has a total debt-to-equity ratio of 104 percent, according to Bloomberg data. That's more than double its rivals at Rio Tinto and BHP Billiton.
The company has hired Citigroup and Credit Suisse Group AG to sell a minority stake in its agricultural business, a person familiar with the situation said Friday.
"Glencore is now under pressure to strengthen its balance sheet via asset sales or a capital injection, and time is of the essence," Chris LaFemina, an analyst at Jefferies LLC, wrote in a note today. "There is value in Glencore shares if the company can pull the appropriate levers now, but risks are clearly very high."
Peter Grauer, the chairman of Bloomberg LP, the parent of Bloomberg News, is a senior independent non-executive director at Glencore.
Before it's here, it's on the Bloomberg Terminal.
LEARN MORE