Glencore's Next Step Seen as $1 Billion Gold, Silver Deal
by , , and
Deal may be linked to some Glencore mines in South America

Silver Wheaton CEO interested in Glencore precious metals sale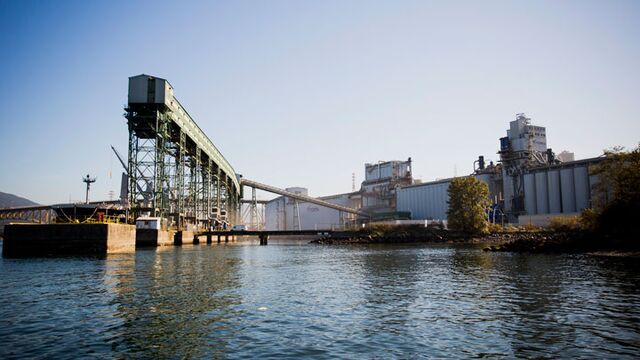 Glencore Plc is seeking to raise more than $1 billion by selling future production of gold and silver as it works to stave off criticism over its debt load, according to two people familiar with the situation.
The company wants to raise money in a so-called precious metals streaming deal linked to some of its mines in South America, according to the people, who asked to not be identified because the talks with potential buyers are private. The transaction is part of Glencore's broader restructuring to reduce its $30 billion debt pile by about a third and bolster its finances to withstand a continuing slide in commodities.
"They do have a lot of options that could be of interest to people," Edward Sterck, an analyst with BMO Capital Markets, said by phone from London. Possible deals could include selling silver output from its Collahuasi or Antamina operations in South America, he said.
Roller-Coaster Stock
Glencore, faced with a collapsing share price and credit default swaps that signal a 50 percent chance of default in five years, is battling worries that the company accumulated too much debt during the years of soaring commodity prices. It endured its two biggest share-price swings ever this week, with the stock plunging 29 percent on Monday and then rebounding 17 percent the next day. It rose as much as 14 percent on Wednesday.
A spokesman for Glencore declined to comment. The company produced 35 million ounces of silver last year and 955,000 ounces of gold from mines in South America, Kazakhstan and Australia.
The company's negotiations in the streaming deal are likely to attract interest from the small group of companies, such as Silver Wheaton Corp., that specialize in the transactions, which give miners upfront payments in exchange for metal that's later sold. Other companies involved in those kind of sales include Franco Nevada Corp.
Silver Wheaton Chief Executive Officer Randy Smallwood said last week he was interested in bidding on streams that Glencore may want to sell. He is pursuing $5 billion of royalty deals, another term for the transactions. Some of the world's biggest mining companies including Barrick Gold Corp. and Brazil's Vale SA have sought the sales to increase cash as commodity prices slump.
Gold Production
Glencore could raise $1 billion to $1.5 billion by selling 10 percent of its gold output through streaming deals, Macquarie Group Ltd. said in a report Tuesday. That means there's "substantial scope" to conclude more of the transactions, the bank said. JPMorgan Chase & Co. analysts wrote in a note to clients on Wednesday that it sees the company being able to raise more than $1 billion.
Aside from its South American mines, Glencore could also look to sell a gold and silver stream from its Kazzinc project in Kazakhstan, BMO's Sterck said. Glencore owns about a third of the Antamina copper operation in Peru. Teck Resources Ltd., which has a 22.5 percent stake in the mine, previously said it would consider selling silver streams to increasing liquidity.
Macquarie estimates that a precious metals stream for 100 percent of production at Glencore's Antamina, Collahuasi and Antapaccay mines is worth $1.3 billion.
'Very Comfortable'
"They are in jurisdictions the North American streamers are very comfortable working in," Michael Siperco, vice president of mining equity research at Macquarie, said in a telephone interview.
David Harquail, the CEO of Franco-Nevada, declined to comment on whether it's interested in Glencore assets. He said earlier this month that the company was actively pursuing deals and considering using a $1 billion credit line to benefit from a surge in high-quality streaming and royalty transactions being offered by major companies.
Surging credit costs and volatile stock markets have made streaming deals attractive to miners. Barrick, the largest gold producer, last month announced an arrangement with a unit of Royal Gold Inc. for $610 million upfront, plus continuing payments, for gold and silver from its Pueblo Viejo mine in the Dominican Republic.
There will probably be wide early interest in any deal, While BMO's Sterck said. Still, "there's a difference between taking a look at something and making a bid."
Before it's here, it's on the Bloomberg Terminal.
LEARN MORE