Elon Musk Delivers Tesla's First Model X SUVs in California
By
Model X `sets a new bar for automotive engineering,' Musk says

Features include falcon-wing doors, `bio-attack defense mode'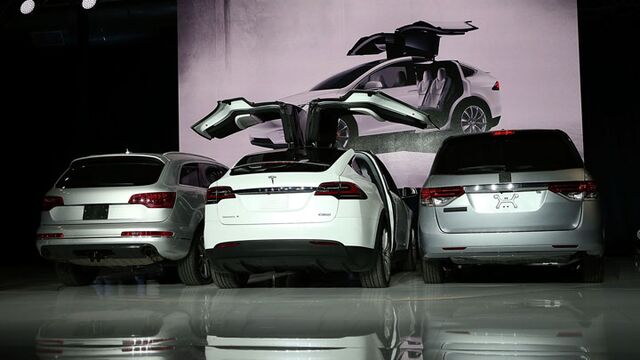 Elon Musk handed over the first six Model X SUVs to owners in California Tuesday, as Tesla Motors Inc. tests its ability to manage production of two all-electric vehicles at the same time.
"The X really sets a new bar for automotive engineering," Musk, the company's chief executive officer, told reporters before the event. "It's like a car from the future."
Musk was candid about the challenges of equipping Model X with complex features, including "falcon-wing" doors that open vertically, independently operable second-row seats and an enormous front windshield. All were difficult to engineer and dependent, in part, on several components and suppliers. The CEO will own Model X No. 1; venture capitalist and Tesla board member Steve Jurvetson gets No. 2.

"In retrospect, we would not have had so many features and functionality," Musk said. "But this accrues to the benefit of the buyer. It didn't need to do quite so many things, but now that it's done, I think anyone who buys it is going to love it."
The question now is if Tesla can increase production of the Model X fast enough to meet its lowered sales target of at least 50,000 units for 2015. Much of Tesla's sales projections are back-weighted to the fourth quarter, raising the stakes for a smooth -- and steep -- rise in production.
More Rivals
Tesla also faces increasing competition, as rivals step up efforts with a growing slate of electric-powered vehicles. Audi presented a prototype for an upcoming zero-emission crossover last week at the Frankfurt motor show, Porsche promised an electric sports car within five years, and BMW AG said more green "i" models are on the way. Separately, Denmark's government is proposing extending its 180 percent tax on auto sales to electric cars, which had been exempt.
Tesla aims to deliver 50,000 to 55,000 vehicles this year, compared with a previous target of 55,000, partly owing to production challenges with the Model X's complex middle-row seats. The Palo Alto, California-based company delivered 21,577 vehicles in the year's first half, meaning it must sell 28,423 vehicles in the second half to meet the lower end of its forecast.
Shares in the company rose 2.4 percent to $252.46 at 8:09 a.m. New York time, before regular trading. Tesla rose 11 percent this year through yesterday, while the Bloomberg World Auto Manufacturers Index declined 14 percent.
The coming-out party for Tesla's long-awaited sport utility vehicle, originally slated to debut in 2013, drew more than a thousand people to a Tesla building in Fremont, California, a city between Oakland and San Jose that's home to the company's lone assembly plant. Musk took the stage before 9 p.m. California time and walked a rapt audience through the vehicle's features. A Model X pulling an Airstream trailer demonstrated its 5,000-pound tow capacity. Grocery bags from Whole Foods and a stroller were pulled from the trunk.
Joining the Model S sedan in Tesla's lineup, the Model X's double-hinged doors open vertically. Other attributes include automatic emergency braking, an expansive front windshield that stretches up onto the roof, 17 audio speakers and a HEPA filter system that fills the cabin with medical-grade air.
"If there was a bio-weapon attack, all you need to do is get in your car," Musk said.
Manufacturing Test
The Model X is crucial to the company's efforts to stretch its manufacturing capabilities and broaden its customer base. Tesla designed its first SUV in part to appeal to families with children and female drivers, as women buy more than half of small SUVs in the U.S., according to J.D. Power & Associates.
Internal crash tests indicate that the Model X should earn 5-star safety ratings, according to the company. The SUV will also help fund Tesla's work on the Model 3, a more affordable vehicle due in late 2017.
"The X doubles our addressable market and gives us cash flow to develop the Model 3," Musk said.

Signature Edition