De Blasio Plans Presidential Income Inequality Forum in Iowa
Henry Goldman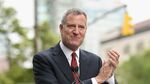 New York Mayor Bill de Blasio, seeking to be a national leader on progressive causes, plans to hold a forum for presidential candidates in Iowa on income inequality.
Invitations will sent to candidates from both major parties, said Geri Prado, executive director of the Progressive Agenda Committee, which de Blasio created to organize the event. The agenda, time and place haven't been set, she said. Iowa will hold the first presidential primary contest on Feb. 1.
De Blasio, the first Democrat to run City Hall in two decades, first discussed his intention to vet the 2016 presidential aspirants when he invited liberal activists and elected officials to Gracie Mansion, the mayoral residence, in April.
His attempt to interpose himself in the presidential race carries political risks. An Aug. 5 Quinnipiac University poll showed the mayor's approval rating at a low of 44 percent, and in May a similar survey found that 46 percent said his travels outside New York were distracting him from his job.
"Every mayor has had national ambitions, and income inequality is the issue he thinks will make him a national figure," said George Arzt, a Democratic political consultant who served as press secretary to former Mayor Edward Koch. "There's a delicate balance between going national and at the same time being seen as providing essential services to run the city."
Attack Ad
This week, a television ad campaign sponsored by a pro-charter-school group called Families for Excellent Schools, which is backed by private-equity executives, attacked the mayor's education policies. For the past several weeks, tabloid news reports have focused on an apparent rise of homeless people camped on streets and increasing incidents of aggressive panhandling by costumed characters and topless painted women in Times Square.
"It would appear Mayor de Blasio is bored with his job already," state Republican Chairman Edward Cox said in a statement. "While he tends to his presidential ambitions, quality of life in the city is declining, crime is increasing and the public school system is an embarrassment. Why are we not surprised that he would rather do a public forum in Iowa than New York City."
The Iowa event's success hinges on bipartisan participation of a critical mass of candidates, particularly Hillary Clinton, the Democratic frontrunner whose successful U.S. Senate campaign was managed by de Blasio. The 54-year-old mayor has declined to endorse her or anyone else this year, and Clinton's campaign hasn't said whether she'll attend.
"The key is getting Hillary and getting her to a forum after he's been perceived as undermining her in refusing to endorse her," Arzt said. "If she doesn't participate in this thing, it bursts his balloon."
Still Waiting
In a Tuesday interview on CNBC, de Blasio said he's been "very impressed by what Hillary Clinton's put out" in positions on taxation, minimum wage and health care. "There's still a few areas where I think we have to fill in the blanks and get a better sense of where things are going," he said.
Katrina vanden Heuvel, editor of the Nation, a progressive magazine, said she supports de Blasio's presidential forum as a way "to encourage candidates to propose real programs for public investment in job-creating infrastructure, or tax-law changes that will reverse years of income inequality."
Spokesmen for the campaigns of Democratic former governors Martin O'Malley of Maryland and Lincoln Chafee of Rhode Island said they hadn't yet received an invitation.
Those not responding to inquiries about attendance include spokesmen for Clinton, U.S. Senator Bernie Sanders and former U.S. Senator Jim Webb.
On the Republican side, representatives of former Governor Jeb Bush and U.S. Senator Marco Rubio of Florida; Carly Fiorina, Ben Carson and Donald Trump either didn't respond or said they hadn't received an invitation.