Food
Conquering the Office Lunch, Using Chipotle's Playbook
Dig Inn is winning over New York's office workers with fresh fare. Can it scale?
by
Mitchell Costa is standing in the crowded lunch line at Dig Inn for what he admits is his fourth trip to the fast-casual restaurant in about a week. "It's flavorful, the line moves fast, and it's not just a salad," says Costa, identifying what has become the winning formula for a new wave of chains trying to capture a bit of Chipotle's explosive growth. The big drawback with the Chipotle model comes from the minimalist menu: Aside from burrito super-fans, most office worker won't get Mexican multiple times a week. In fact, only 43 percent of Chipotle customers visit more than once a month, according to research from Technomic. Dig Inn has repeat customers coming in four or five times a week.
Haven't heard about Dig Inn? Your office probably isn't located in Manhattan's prime office districts. The chain has opened 11 locations there since 2011, nearly doubling over the past year and planning to nearly double again in 2016. Instead of rice, beans and carnitas, Dig Inn offers sautéed kale, wild sockeye salmon, and other seasonal fare served in something like an American version of a burrito bowl. The server behind the counter asks: grain or greens? Top your pick with a protein—freshly carved steak or charred chicken—and then choose two additional vegetable sides. The menu changes often, but you might find, say, warm Brussels sprouts or a chilled watermelon and mint salad. The Market Plate, as this configuration is known, sells in the $8-to-$12 range. 
The restaurant calls its philosophy "farm-to-counter," a play on farm-to-table. "What we're trying to accomplish is making really high-quality, good, sustainably sourced, freshly prepared food available to the masses," says Dig Inn Chief Executive Officer Adam Eskin. "Flipping the fast-food idea on it's head a little bit."  
During the work week, each Dig Inn sees more than 1,000 customers a day. About 65 percent of that business comes from the midday crowd, with some locations serving anywhere from 700 to 1,000 customers during lunch, according to Dig Inn's internal metrics. With an average check of around $10, Dig Inn projects that sales will hit $35 million by the end of 2015. Each Dig Inn location brings in $3 million to $4 million a year in sales, according to estimates by John Maverick, a consultant who has worked with both the burrito giant and Dig Inn. The average fast-casual spot generates $1 million to $1.5 million a year in New York, Maverick says, and Chipotle hits about $2.4 million.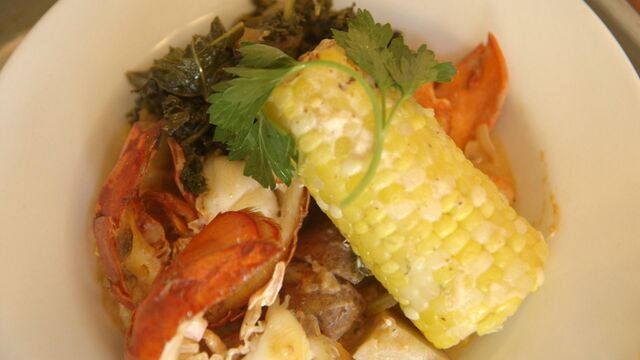 In part, what makes Dig Inn so lucrative is the demographic it targets. Each of its 11 storefronts sits in an area dense with busy white collar workers willing to spend an average of $10 on a midday meal; they increasingly expect healthy, sustainable, tasty food. Think more Chipotle and Sweetgreen instead of Subway and McDonalds. "When you're growing a business in the food and restaurant space and you're in an urban environment, ignoring a lunch worker is not going to work out for you," says Eskin. "It's a big part of destiny here. We're looking up—we see skyscrapers going into the sky."
Finding those yuppie-saturated locations didn't take much work for Dig Inn, which benefited from fast-casual forefathers that had already researched and settled in those prime spots. There's a reason certain New York blocks have a predictable roster of eating options—Chop't, Pret-A-Manger, Chipotle—it's where the most desirable lunch crowd clusters. But it also means competition from a lot of comparable establishments. 
What makes that demographic opt for one eatery over the other? Dig Inn hopes a lot more options will prove alluring. One day, someone might order salmon over greens, then opt for mac and cheese the next. It doesn't get as old fast. Chipotle's menu, famous for its brevity, keeps the line moving, but it also makes the restaurant unappealing to frequent five days a week. 
Still, speed is important, and it's something Dig Inn is working on. Most office workers are reluctant to leave their desks for a lunch break. Research shows that only one in five step away from their computers during the day to grab food. When people go out, they want to get back to work as fast as possible. "Most people have 30 minutes for lunch, and that's it," says Maverick. "A lot of them will actually get lunch and go back to their desk. It's essential to be able to get that sell time down." Maverick says the gold standard is moving eight to 10 people through a line in 90 seconds, which works out to 300 customers per hour. Chipotle, as of 2014, had some restaurants shuffling through 350 people an hour. 
Dig Inn's ordering process is slightly more confusing than Chipotle's. The line stutters around the vegetable station; it's hard to see all options, both hot and cold, at once. Maverick is working with the company to get the average order time down by studying the line and by clarifying the process with logical menu boards, for example. "How do you organize it so the customer can understand it, and you create a system that flows," asked Maverick. Dig Inn says it sees "as many as 300" people per hour, though the number varies. 
Dig Inn sells lunch for slightly more than Chipotle charges, while still sitting in a mentally acceptable price range for many lunch-goers. A small plate with chicken is listed for $8.04, passing the $10 mark with tax and drink tacked on. "The $10 price point for an entree is perfectly fine for an everyday meal in a major metro market," says Dean Small, founder of Synergy Restaurant Consultants. For what Dig Inn claims to offer—sustainable, local, farm-fresh fare—the prices feel like a deal. "People will pay a couple dollars extra if they're paying for something that supports their belief system." 
Unlike Chipotle, however, Dig Inn doesn't make any moral guarantees about its food. "We call that the proverbial line in the sands," said Eskin. "We don't draw those. I think because the equation that we're dealing with—it's fairly complicated." There are times when the food doesn't meet the "farm-to-counter" standard, but a diner would never know.
Eskin has spent the past four years building relationships with farmers and distributors to get fresh, local produce to his restaurants. Sometimes he will work with farmers to cover the upfront costs of seeds to push up the supply of crops. Buying in bulk also helps, and vegetables make up around three-quarters of the menu. In 2014, for example, Dig Inn bought 174,708 pounds of kale, probably making an 11-restaurant chain one of the single biggest purchasers of the leafy green. 
Dig Inn's relationship-dependent supply model will make it difficult to achieve Chipotle's explosive growth. It took Dig Inn four years to build trust with farmers and distributors in the New York area. How do you scale that? "The way we're thinking about growing our business is: What are the most logical markets when you start to draw concentric circles that we can go into?" Eskin says. "We will leverage the existing relationships we have. We have folks that are in Maine or in Massachusetts that are already serving this Northeast corridor. We're not going to L.A. or the West Coast tomorrow."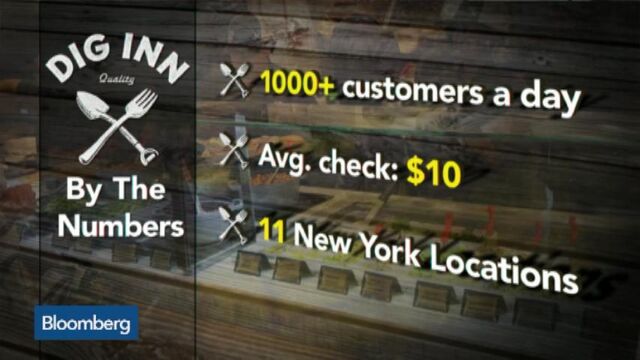 Before it's here, it's on the Bloomberg Terminal.
LEARN MORE