Japan Tobacco Lost $9 Billion After Betting on American Spirit
By
Shares plunged 14% since Monday after deal was first reported

Sales needs to quintuple in 5 years to make sense: Nomura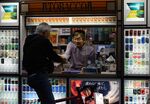 Japan Tobacco Inc. is making one of the most expensive deals in the tobacco world in a bet that more smokers, especially Japanese ones, will get hooked on Natural American Spirit cigarettes. It's already lost twice the $5 billion it offered through the decline in the value of its shares.
About 1.2 trillion yen ($10 billion) has been wiped out from JT's market value since Monday's open, after Bloomberg reported Sept. 25 that Asia's largest listed tobacco company would agree to buy international rights to Reynolds American Inc.'s Natural American Spirit brand. JT confirmed the deal late Tuesday, at about 286 times the target's pretax profit.
To start making a decent return, JT will need to quintuple the brand's sales in the next five years, according to Nomura's Tokyo-based analyst Satoshi Fujiwara, something he thinks the former Japanese monopoly might pull off.
"Natural American Spirit is an unusual brand that's growing because of its uniqueness," Fujiwara said by telephone. "With JT's sales and marketing expertise, there's potential that sales volume for NAS products would further increase even in the shrinking markets such as Japan and Europe."
The market has been skeptical. Shares of JT have plunged 14 percent in Tokyo trading since Monday's open, closing at 3,573 yen each on Thursday, while the benchmark Topix rose 2.2 percent.
Bet on Growth
The non-U.S. Natural American Spirit businesses that JT is acquiring had profit before income taxes of 2.1 billion yen and net sales of 17.6 billion yen in 2014, according to the Japanese company. The multiple for JT's offer price compares with the median of 13 times pretax earnings in 79 tobacco company deals over the past five years, according to data compiled by Bloomberg.

JT is betting Natural American Spirit, which sold 1.5 billion sticks of cigarettes in Japan last year, up from 600 million in 2011, will be able to keep up that growth. As smoking rates diminish in most regions of the world, Japan is a rare exception, with 19.7 percent of its adults on the habit as of May 2015, slightly higher than a year earlier.
If JT is aiming for a minimum annual return of 5 percent from the investment, it will need to lift sales to 90.1 billion yen for 2020, five times more than last year, Fujiwara said. It's "not unrealistic", assuming volume growth of 40 percent per year in Japan and 10 percent in Germany and other parts of Europe, according to the Nomura analyst.
JT has said it wants Natural American Spirit to become number two in Japan, behind its own Mevius brand, the country's bestseller brand, according to Fujiwara. The Reynolds brand, which positions itself as a premium, "all-natural" and additive free cigarette with flavors such as Menthol Light and Perique Rich Taste, had a 0.8 percent share in Japan last year, he said. Mevius had a 31 percent share, according to Euromonitor International.
Smoker Support
JT has stepped up purchases of brands and products amid a shrinking population in Japan, with JT President Mitsuomi Koizumi saying in February that 2015 would be the company's "year of investments." The company has announced three asset purchases so far this year.
Natural American Spirit's "premium price segment" products, notably in Japan, "have enjoyed significant brand loyalty, gaining strong support from adult smokers in especially the urban areas," Koizumi said after the transaction was announced. "We're committed to accelerate the growth of this brand even further."
For Credit Suisse Group AG analyst Masashi Mori, the outlook is less clear.
"There must be a picture seven to 10 years down the road, which only JT can see at this moment," Mori said. "JT is a rare Japanese company that has been quite successful in cross-border acquisitions, so you could be optimistic taking their examples in the past."