Abenomics Hasn't Yet Delivered on Big Vision to Revitalize Japan
By
Deflation has eased, but the specter of recession is back

Outcome so far is "180 degrees opposite of what we expected"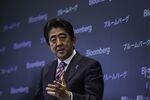 When Japan two decades ago became the first major nation to experience deflation since the 1930s, its central bank pioneered new monetary strategies to get out of the trap. Observers including Ben S. Bernanke and Paul Krugman said the moves were insufficient, and history proved them right.
Haruhiko Kuroda took note of Bernanke's prescriptions. He now runs the Bank of Japan, and has overseen a historic monetary expansion that's succeeded in bringing Japan's inflation into line with that of its rich-world counterparts. The campaign has rewarded Japanese companies with record profits, and a portion of that cash is finding its way to some workers at large firms with pay gains unseen in decades.
Yet, almost three years into Prime Minister Shinzo Abe's administration and his launch of a three-pronged economic strategy of monetary and fiscal expansion and structural reforms, there's increasing concern Japan is again making the mistake of insufficiency -- this time with regard to freeing up regulations on businesses and workers. The cost could be a third lost decade.
"The clock is ticking for Abenomics," said Paul Sheard, chief global economist at Standard & Poor's in New York, who spent 17 years in Japan over a span of three decades. "If Japan is serious about increasing growth, there needs to be a Copernican revolution on structural policies of the same magnitude as the revolution that's taken place at the BOJ."

Abe, 61, has three more years to prove he can channel Copernicus when it comes to structural reforms. His recent reappointment as head of the ruling Liberal Democratic Party means he could stay on as prime minister until 2018, as the next lower house of parliament election isn't due until late that year. 
Demographic challenge
Now that deflation has been broken, under Abenomics 2.0, "Japanese demography must no longer hinder growth," Abe said at a forum Tuesday at Bloomberg headquarters in New York. He pledged to use "all political resources available" to ensure a strong economic outlook and energize the labor market of a country with an aging and shrinking population.
So far, the most visibly effective part of the Abenomics program is monetary policy, where Abe's pick for Bank of Japan governor has embraced stimulus on an unprecedented scale.
While the BOJ pioneered quantitative easing -- the strategy of expanding the supply of money that was adopted in force years later in the U.S. and Europe -- its effort in the early 2000s was deemed too small by observers including Bernanke. Kuroda, who served in the Cabinet Office when Bernanke, then a member of the Federal Reserve Board of Governors, advised the Koizumi administration on monetary expansion, revved up the QE engine with purchases of assets from government debt to stocks as soon as he took over the BOJ:

Kuroda's asset purchases have essentially succeeded in ending entrenched deflation -- consumer prices rose 1.6 percent and 2.3 percent in the first and second fiscal years of his term (boosted in part by a sales-tax rise). While the most closely watched inflation gauge dipped in August, Japan is no longer the outlier it was compared with peers:
While the cheap yen spurred by Kuroda's policies have brought record profits to Japan's companies -- and ignited the stock market -- businesses have proved reluctant to boost investment at home. One big reason: even under Abe's target to stop Japan's population decline at 100 million, from 127 million now, there would be a 21 percent contraction in the number of Japanese in coming decades.
"Demographics are such a powerful undertow pulling down growth," said Kenneth Courtis, who first moved to Japan in 1983 and worked at Goldman Sachs Group Inc. before his current role as chairman of Starfort Investment Holdings. And yet, "proposals on the scale and amplitude and dimension of what's required are not even, frankly, being discussed."
That leaves Japan stuck with a stop-go economy, where occasional contractions are followed by spurts of growth. Abe's decision to proceed with a sales-tax increase last year tipped the country into a recession. And there's an increasing risk of another one this year -- data showing factories cutting back on output sparked a flurry of cuts to gross domestic product estimates by analysts on Wednesday.
Today, a report showed that business confidence retreated in September, boding ill for a rebound in capital spending.
At the household level, incomes and spending have also had a stop-go pattern since Abe took office -- indicating that consumers haven't yet embraced the prime minister's vision of "a strong economy that brings hope." Japan's GDP is roughly the same size now as in 1994.

Paul Krugman, the Nobel laureate in economics who began chiding the BOJ for insufficient action back in the 1990s, said the big problem remains building enough momentum in the economy to escape deflation. "I'm still really, really worried" that Abenomics might fail, he said at a conference on a September visit to Tokyo.
Abe has made progress in some areas of reform, including spurring companies to focus more on shareholder returns and reducing the hold of the largest farm lobby on Japan's agricultural business. Bruce Kasman, chief global economist at JPMorgan Chase & Co. in New York, says his profession has a poor record of picking up on structural economic shifts, such as America's in the 1980s. Even so, Japanese policy makers "dug themselves in such a deep hole" that it will be tough to alter the trajectory, he said.
Yet the most important areas for change have scarcely been addressed, observers say -- especially in encouraging flexibility in the labor market and an influx of foreigners to help ease the growing shortage of workers. Abe has instead spent political capital on overhauling national-security laws.
Expectations dashed
"What has happened is 180 degrees opposite of what we expected at the start of Abenomics" back in 2012, said Hiromichi Shirakawa, chief Japan economist at Credit Suisse Group AG. "We thought the BOJ was buying time for the government to more easily introduce labor mobility reforms."
Shirakawa, who worked at the Bank of Japan in the 1980s, said "if Japan fails in boosting its supply potential, we think the economy will hit a wall," with trend growth rates below 1 percent.
One big worry about such a weak pace of expansion: it would leave a rising government debt burden, now already in excess of 240 percent of gross domestic product -- the world's highest.
"It will make Greece look like a summer picnic," if Japan hits a crash in confidence and borrowing costs climb, Courtis said. "When you have a Himalayan amount of debt above you, higher rates are like triggering an avalanche."