A Wall Street Rainmaker's Secret to Trillions Worth of M&A Deals
by
Taubman's PJT goes public after merging with Blackstone unit

Schwarzman is the single biggest investor in Taubman's firm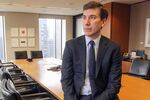 If old phones could talk, the one that Paul J. Taubman carries around in his pocket could tell several trillion dollars worth of Wall Street stories.
That black Samsung flip phone, which Taubman has relied on since the early 2000s because of its superior sound quality and long battery life, has helped him pull off a long list of deals from Pfizer Inc.'s $64 billion takeover of Wyeth to Verizon Communications Inc.'s $130 billion buyout of Vodafone Group Plc's wireless stake. His three-decade run, at Morgan Stanley and then on his own, turned Taubman into one of the most successful mergers-and-acquisitions artists of all time.

Now, that phone will be working to enrich a new master on a new high-stakes job just as deepening turmoil in global markets threatens the M&A boom. The 54-year-old dealmaker is combining his own startup, PJT Partners Inc., with the mergers and restructuring businesses of Blackstone Group LP, the private-equity giant headed by Stephen Schwarzman.

Whether Taubman can turn PJT, which goes public on Thursday, into a success is anyone's guess. Boutique M&A shops have come and gone over the years. And he has no experience running a publicly traded company. But few have the expertise of Taubman, the PJT of the new firm, or the financial firepower of Blackstone, whose market value dwarfs its three closest competitors.
In fact, more than 200 Blackstone bankers spanning M&A, restructuring and alternative-asset fundraising are joining PJT, jump-starting growth in a way that has put rival boutiques on notice.
Well Established
"People have built their firms completely from scratch, and we're stepping into a business that's, you know, already very well established," Taubman said.
For his part, Schwarzman is staking some of his considerable fortune on Taubman, who earned his rainmaking reputation by working on many of the largest deals in history. The 68-year-old billionaire is PJT's largest investor, owning a stake valued at roughly $136 million.
M&A advisory is "also sort of where I made my career," Schwarzman said. "Separating these businesses was emotionally difficult for me, personally."
The move comes just as worries about China's slowdown and the commodities collapse may spoil the record pace of dealmaking and chill M&A for months to come. While 2015 will probably still go down as one of the strongest in history, the turmoil damped some enthusiasm for PJT's public-market debut.
Early trading began for some investors this month, and shares have fallen for five straight days since rising above $29 apiece, according to data compiled by Bloomberg. On Tuesday, the stock declined 10 percent to $23.50. Volume has fluctuated between 300 shares and 81,000 shares a day, on a when-issued basis.

Like many other boutiques before it, PJT is looking to capitalize on the resurgence in M&A to win more high-profile mandates as companies seek alternatives to Wall Street's "bulge-bracket" firms in the post-crisis era.
This year, Lazard Ltd., the biggest independent investment bank, and Centerview Partners, the firm led by Blair Effron and Robert Pruzan, won the prized advisory roles for the $55.4 billion deal that created Kraft Heinz Co. -- the largest without any big banks in at least a decade. Veteran dealmaker Ken Moelis has more than doubled staff since taking his firm public in April 2014. Evercore Partners Inc. and Guggenheim Partners have also added bankers.
Now, as Taubman jumps into the fray, he's pitching PJT as a "start-up with instant scale." In addition to Blackstone's bankers, Taubman has been aggressively picking-off talent, notably from his old firm.
Taubman recruited Scott Matlock, the ex-Morgan Stanley chairman for international mergers, and Christopher Harland, who oversaw Latin America coverage, among others. PJT also added about a half-dozen bankers from JPMorgan Chase & Co., Credit Suisse Group AG and UBS Group AG, expanding the firm to 330 employees. That rivals all but the biggest boutiques.
The Man
Of course, there's Taubman himself. While overseeing M&A in various roles at Morgan Stanley from 2003 through 2012, the bank worked on more than $6 trillion of deals. His deft maneuvers to salvage the Pfizer deal during the credit crisis impressed even the likes of Roger Altman, the long-time dealmaker who co-founded Evercore.
"He certainly has experience in running one of the largest M&A groups on the Street," said John Mack, who led Morgan Stanley during that time. Nevertheless, "I don't think anyone knows are you a good CEO or a mediocre CEO until you put your team together, and then execute on it."
For boutiques, satisfying shareholders can be particularly hard. Some, such as Evercore, have delivered outsized returns since 2009, but on average, boutiques lag behind the big banks. This year, Moelis & Co. and Greenhill & Co., formed by ex-Morgan Stanley banker Robert Greenhill, have fallen at least 25 percent as they missed earnings estimates.
What's more, only one boutique, Lazard, has consistently ranked among the top 10 for M&A over the past decade.

"The challenge is to build the firm at the same time that you're doing business -- and at a time when Paul himself will be the big draw," Altman said.
PJT's first year as a public company could be its most difficult because it may need spend more to grow, said Jonathan Morgan, a deals analyst at The Edge. With compensation accounting for most of the expenses, the Blackstone businesses had a net loss of $23 million in the first half, a filing showed. If that holds, it would be the second loss in three years.
Some are wondering whether Taubman is being too ambitious. A portion of his pay is tied to PJT shares that need to triple to $79 by October 2019. That's a lofty goal as the stock has already traded at a higher price than warranted by the sum of its parts, Morgan said.
"It's anyone's guess if he can hit that," he said.
Even if M&A does slow, Taubman still has Blackstone's restructuring group, and Park Hill, a fund adviser that's also being rolled into PJT, to potentially drive growth.
'Intimate Thing'
As part of PJT, the restructuring bankers would be free from any conflicts that could arise if Blackstone's asset managers wanted to buy distressed debt or real estate. Park Hill could also win more work from other private-equity firms, which were previously wary of working with the competition. In the past, Park Hill didn't introduce Blackstone's M&A team to its clients, which have been involved in some 4,000 investments since the fund's founding, according to Dan Prendergast, the group's leader.
Ultimately though, PJT's success may hinge as much on Taubman's ability to woo and reassure new clients -- a skill he cultivated in the 1980s as a young banker after attending Stanford Business School -- as it does on the legendary loyalty of his existing ones.
And that's where the old flip phone comes in.
"It's an intimate thing," Tim Coleman, who leads the restructuring business, said of the device and uses a similar one. "If you're calling somebody about the biggest transaction or bankruptcy of their life," he said, "you want to sound like you're sitting next to them."
Before it's here, it's on the Bloomberg Terminal.
LEARN MORE