technology
A British Lord is Using Wi-Fi to Power a Pollution Sensor
A member of the British House of Lords wants to use "electrosmog" to help clean up real smog.
By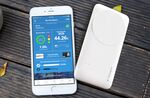 We are surrounded by "electrosmog" – invisible clouds of electromagnetic radiation that enable the mobile and Wi-Fi networks we all rely upon. If you know how to capture it, there is also enough going spare to power small devices.
Former British Science Minister Paul Drayson, a peer in the U.K.'s House of Lords, has developed an efficient energy-harvesting system – called Freevolt – which uses an antenna to draw power from multiple wavebands of the electromagnetic spectrum while fitting into a unit the size of a credit card.
"We can't power a mobile phone, but we've found that the ambient energy density is sufficient to power sensors, beacons and some wearables," Drayson says.
Personal Pollution Monitor
The first application of the technology is being launched on Sept. 30, placed inside a personal air pollution sensor called CleanSpace, which allows individuals to monitor the air quality around them. The sensor, called Tag, pairs with a mobile app to keep track both of carbon monoxide levels and transport choices made by an individual. Users earn points each time they walk, run or cycle. These can be traded for rewards from partners including Amazon, Boohoo.com and MaxiNutrition. The data from individual sensors is aggregated to build up a map of the air quality, in the same way Waze does for traffic.
Promotional footage courtesy of Drayson Technologies
"This is the first commercial device that is powered solely from ambient radio frequency energy," says Drayson, who served as science minister between 2008 and 2010 and was a biotech entrepreneur before that. After losing his position following the 2010 U.K. election, he turned his attention to his motorsports company Drayson Racing Technology while looking around for another technology to commercialize. That's when he came across the work of Imperial College, London, PhD student Manuel Piñuela Rangel, who was researching inductive power transfer, and set up Drayson Wireless.
Pollution Dangers
The team decided to create a personal air quality sensor in recognition of the increasing public awareness of air pollution as a health problem – not just an environmental one. The U.K. suffers health effects equivalent to least 29,000 premature deaths because of poor air quality each year, according to the Department for Environment, Food and Rural Affairs.
"Air pollution is killing us. I'm an asthmatic and grew up in London and I have four children who have asthma. Having a monitor informs people about the quality of air and they can make small behavioral changes – such as walking on a side street rather than a main road – to reduce their exposure," Drayson says.
Initially the peer financed Drayson Technologies himself, but in April 2015 it raised funding from Woodford Patient Capital and Lansdowne Partners.
While the CleanSpace Tag showcases what Freevolt can do, Drayson plans to license the technology to other commercial partners looking to create sensor networks, beacon-driven retail marketing tools or low-powered wearables. As it stands, the inventor contends that Freevolt could generate enough power for devices like the Fitbit Charge or Jawbone UP3.
Signal Failure
Dr John Batchelor, an energy-harvesting and antenna specialist from the University of Kent, who has no involvement with Freevolt says that if the technology is reliable it's "quite an achievement."
However, he adds: "If you are being an opportunist and soaking up whatever energy is around you you're at the whim of there being a signal."
Drayson points out that because Freevolt works across multiple bands of radio frequency, if there isn't any 3G or 4G signal it can gather energy from Wi-Fi or even broadcast signals. Although it's possible there are still some signal blackspots.
As for whether this energy-harvesting could have an impact on mobile phone signal, Batchelor says: "By the time you're at street level you have a very weak signal, and [the Freevolt has a] very small antenna soaking up a small amount of power. The only point in the universe that's being robbed of power is the immediate area around the antenna."
Drayson concedes that the technology will only ever power low-energy devices, but says arrays of harvesters could help widen its use.
"I could put a Freevolt harvester array behind my white board in order to continually harvest power for an e-ink display, for example," he says. 
Before it's here, it's on the Bloomberg Terminal.
LEARN MORE