VW May Be Dropped by Swedish State Pension Funds on Scandal
by and
Funds may consider dropping VW because of threat to returns

Sweden's AP3 Fund owned 244,100 VW shares at the end of June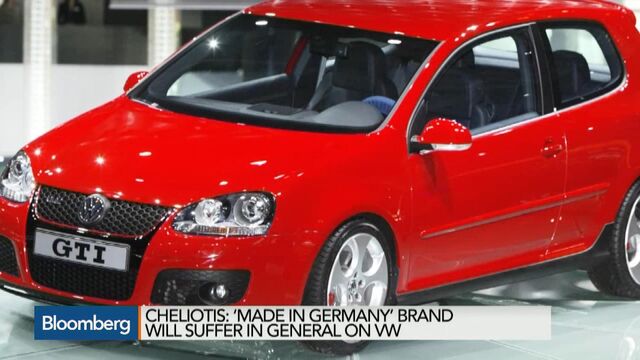 Sweden's national pension funds may drop Volkswagen AG as an investment option as the emissions scandal that has engulfed Europe's biggest carmaker wipes out returns.
The Third Swedish National Pension Fund, AP3, which managed 304 billion kronor ($36.3 billion) at the end of June, and the Ethical Council it has with the AP1, AP2 and AP4 funds will now evaluate the emissions scandal, Peter Lundkvist, head of corporate governance at AP3, said by phone on Tuesday.
While VW "was prior to this definitely a company that belonged in our portfolios," that may no longer be the case, he said.
The fund is now trying to decide whether VW should be blacklisted based on any potential breaches of conventions signed by the Swedish state, Lundkvist said. Based on what the fund has seen so far, "it's unlikely that we would exclude the company because of the emissions scandal," he said "But we may decide not to hold Volkswagen shares because of our view on future returns."
VW is struggling to regain its footing after it emerged that the carmaker used software to obfuscate how much its diesel-engine cars pollute. About 11 million vehicles around the world were fitted with the defeat devices. The company has set aside 6.5 billion euros ($7.3 billion) to cover damages including fixes, potential regulatory fines and lawsuits, and its market value has plunged 27 billion euros since the scandal was revealed.
"This is completely unacceptable and must be fully investigated to minimize the risk that it happens again," Lundkvist said. "This creates an enormous uncertainty for consumers and for the industry as a whole."
AP3, which is one of five so-called buffer funds within the Swedish national pension system, owned 244,100 Volkswagen shares valued at 390 million kronor at the end of June. The fund only comments on its shareholdings in its annual and interim reports and cannot disclose how much of VW it currently owns or whether it has divested its stake, Lundkvist said. The VW holding has been part of an actively managed portfolio, he said. The AP4 fund owned 43,280 shares in VW valued at 83.2 million kronor at the end of June.
"Volkswagen has been one of the best companies from a sustainability perspective, so this would have been incredibly hard for investors to detect," Lundkvist said. "There haven't been any signals. I am completely shocked when looking at the magnitude of this."
The Ethical Council, which sets guidelines for four of the country's six AP funds, will be in contact with VW to get a sense of how the company is dealing with the scandal, Chairman Ossian Ekdahl said in an e-mailed response to questions on Tuesday.
"I don't want to speculate on what the Ethical Council's analysis will result in," Ekdahl said. "But firstly, we chose to start a dialogue with the company in question in order to ensure that the incident isn't repeated in the future. Exclusion is only an alternative when we don't reach our goal through dialogue."
VW's plight is being watched closely in Sweden, where the government called for a meeting on Wednesday with Volkswagen's local division and the Swedish Transport Agency to discuss the crisis. The Swedish Prosecution Authority's National Anti-Corruption Unit is also evaluating whether to start a probe into VW. The German carmaker said late on Tuesday that 224,746 vehicles in Sweden are affected by the emissions scandal and will be recalled to have their diesel engines fixed.
It's not the first time Volkswagen has been at the center of a corporate controversy in Sweden. The company was criticized by minority owners in Scania when it offered to buy all of the Swedish truckmaker in 2014. Back then, the shareholder group unsuccessfully tried to block VW's offer, arguing the bid was too low and that the Swedish truckmaker would fare better as a separate listed company.
Prior to VW's bid to take over all of Scania, minority investors had also called for an auditor to judge whether the German carmaker's existing stake posed a conflict of interest, given the fact that VW already was a majority owner of MAN SE. Shareholders also criticized the reduction in dividend payments at Scania after VW built a stake, as well as the abolition of a board-nominating committee.
Dagens Industri, Sweden's biggest business daily, urged investors in a Sept. 24 editorial to buy back Scania from VW. The "world's most profitable truckmaker has now undeservedly ended up in the shadow of the owner's environmental fraud," it said.
Before it's here, it's on the Bloomberg Terminal.
LEARN MORE