VW Close to Diesel Fix as Sales of Rigged Cars Halted
by
Sales halted in Spain, Switzerland, Italy and the Netherlands

Volkswagen to inform customers soon of plans for repairs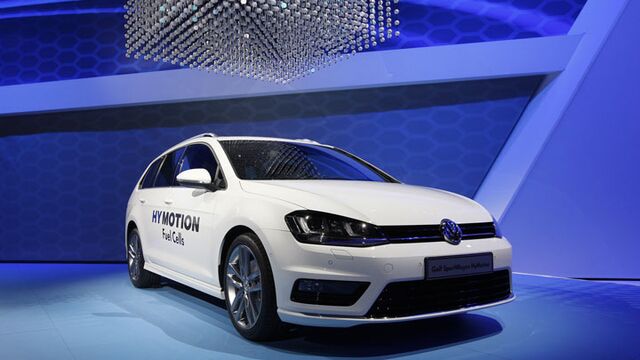 Volkswagen AG will start fixing emissions systems that cheated on pollution tests as soon as October, as sales of vehicles with the rigged diesel engines are halted in a growing number of European countries.
Cars with the affected diesel engines are being pulled from markets including Switzerland, Italy, the Netherlands and Belgium, while prosecutors in Sweden consider opening an investigation on potential corruption and a criminal complaint was filed in Spain. For autos already sold, Volkswagen is looking to inform customers soon about the steps it will take to repair the vehicles.
"It's going to depress their market share for a while, maybe even up to one to two years," said Richard Gane, an automotive specialist at supply-chain consulting company Vendigital Ltd. "This is going to run and run."
After dodging U.S. regulators for almost a year and publicly admitting to cheating on diesel emissions almost two weeks ago, Volkswagen is now pushing ahead to rectify cars that turned on full pollution controls only during tests. Regulators will be informed of a solution in October, the company said in a statement on Tuesday. Affected customers will then be notified that the emissions of their vehicles can be improved in the "coming weeks and months," without saying what impact the repairs will have on performance.
The scandal involves a type of diesel engine installed in as many as 11 million vehicles worldwide. The number includes about 5 million VW brand cars, 2.1 million Audi models, 1.8 million VW delivery vans, 1.2 million autos from the Skoda unit and 700,000 from the Spanish Seat nameplate. Models include the previous generations of the VW Golf hatchback and Tiguan sport utility vehicles.
German Deadline
To reach out to customers, Volkswagen plans to set up websites in various countries so drivers can check on actions locally. The carmaker has already set up a site in the U.S., the starting point of the scandal that's wiped out 28.6 billion euros ($32.1 billion) from the company's market value.
The German government has set an Oct. 7 deadline for Volkswagen to say how it'll bring some 2.8 million diesels in its home market up to standard, threatening to pull the cars off the road if the manufacturer fails to do so. The scandal has already hurt the VW and Audi brands' reputations in the country, according to polling firm YouGov, while consultant Brand Finance estimates the VW marque's value could be cut by about one-third, or $10 billion.
As Volkswagen seeks to recover, the executive committee of its supervisory board, made up of union officials as well as shareholder representatives from the Porsche family and the German state of Lower Saxony, is meeting Wednesday to discuss the latest results from the investigation, a person familiar with the situation said.
Volkswagen Chief Executive Officer Matthias Mueller, who was appointed on Friday, said a project team devised a plan over the weekend to enable the carmaker to start informing customers of the next steps being taken.
'Long Road'
"We have a long road and a lot of work ahead of us," Mueller said in a speech to Volkswagen's management late Monday, confirming that the company hired law firm Jones Day to assist with its internal investigation. "To this end, thoroughness is more important than speed."
Still, pressure is building on the manufacturer to come up with a solution. Swedish prosecutors at the National Anti-Corruption Unit are evaluating whether they have jurisdiction to start their own probe, said Alf Johansson, a chief prosecutor at the unit. Spain's Industry Ministry said authorities are considering taking legal action, while Manos Limpias, a public workers' union, filed a criminal complaint as a private lawsuit in the country's national court against Volkswagen's three Spanish units and their chairmen. In the Netherlands, the government is exploring a regionwide recall of the vehicles.
"We would like you to consider the possibilities of a European recall," Dutch State Secretary Wilma Mansveld said in a Sept. 25 letter to the European Commission, the executive arm of the European Union. "This has to ensure that all faulty software is removed from the market and replaced by proper software that allows proper emission reduction."
For more real-time updates on VW, read the Bloomberg Brief here.
Before it's here, it's on the Bloomberg Terminal.
LEARN MORE