Take Glencore Private If Market Unfair, Citi Says With `Buy'
by
`The markets response is overdone,' Citigroup says in report

Entire agricultural-marketing business may be sold, bank says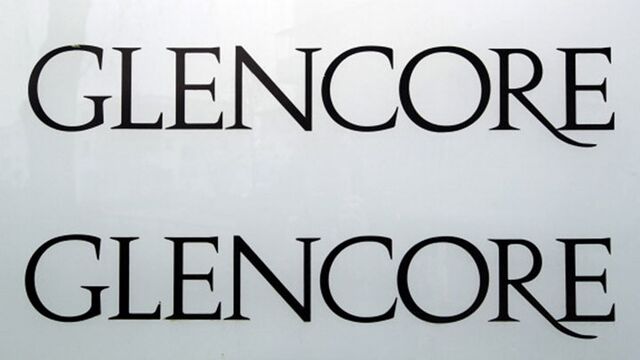 If the stock market doesn't stop hammering Glencore Plc shares, Chief Executive Officer Ivan Glasenberg should take the company private, according to analysts at Citigroup Inc.
"The markets response is overdone," said Citigroup, which helped Glencore to list in 2011 and has worked on many key deals since. "In the event the equity market continues to express its unwillingness to value the business fairly, the company management should take the company private, whereby restructuring measures can be taken easily and quickly."
The commodities trader and miner could eventually separate its industrial assets from the trading operations if it was private, analysts at Citigroup said in a report dated Monday. While Glencore shares fell almost 30 percent yesterday, Citigroup called the stock attractive because it's cheap and the company doesn't have a stressed balance sheet.
The shares rebounded in London on Tuesday, climbing 8.9 percent to 74.71 pence as of 10:52 a.m. Citigroup predicts Glencore will rise to 170 pence within the next 12 months. The stock has tumbled 77 percent in 2015.
Little Value
Losses were triggered by concern that the company has too much debt to withstand the declines in commodities. Investec Plc warned that there was little value for shareholders should low prices persist. The company has been forced to sell new stock and scrap its dividend as part of a $10 billion debt-reduction program as China's economic slowdown hurt demand for commodities and sent prices slumping.
Citigroup said that even with copper at $4,000 a metric ton and other raw-material prices stable, Glencore would post earnings before interest, taxes and amortization of about $7.5 billion.
"Glencore is now under pressure to strengthen its balance sheet via asset sales or a capital injection, and time is of the essence," Jefferies Group LLC said in a report on Tuesday. "There is value in Glencore shares if the company can pull the appropriate levers now, but risks are clearly very high," it said, giving the stock a "hold" rating.
Agriculture Stake
Glencore has hired Citigroup and Credit Suisse Group AG to sell a minority stake in its agricultural business, a person familiar with the situation said Friday. The planned sale is part a broader raft of changes that include selling $2.5 billion of new stock and trimming the company's debt to $20 billion from $30 billion.
"The group is not limited to just selling a minority stake and if the need be, the entire agricultural-marketing business could be sold, which we value at about $10.5 billion," Citigroup said in the report on Monday. "The level of interest is likely to be high."
It's unlikely that Glencore's credit rating will be cut below investment grade, Citigroup said. If the downgrade happens, Glencore's counterparties will keep trading with the company, it said.
Peter Grauer, the chairman of Bloomberg LP, the parent of Bloomberg News, is a senior independent non-executive director at Glencore.
Before it's here, it's on the Bloomberg Terminal.
LEARN MORE