RBS CEO Seeking to Buy Back Government Shares to Cut U.K. Stake
by
British bank is `on track' to deliver on all of its targets

Stock gains as much as 1.9 percent in London trading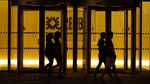 Royal Bank of Scotland Group Plc Chief Executive Officer Ross McEwan said he wants the U.K. bank to buy back shares to help reduce the government's stake.
"I would rather participate as the government is selling down," McEwan, 58, told investors at a conference in London on Tuesday. "It's probably the best thing for all investors, where excess capital goes back through buybacks."
Chancellor George Osborne raised 2.1 billion pounds ($3.2 billion) selling the first portion of RBS shares in August, even though it came at a loss on Britain's bailout of the Edinburgh-based lender at the height of the financial crisis. McEwan plans to return capital to shareholders from early 2017, using funds generated from asset disposals as the bank focuses on U.K. and Irish consumer lending.
McEwan said RBS could follow American International Group Inc., which bought shares to help cut the U.S. government's stake after requiring a bailout in 2008. The U.K. owns 72.9 percent of RBS.
"You've seen very good examples of that in the marketplace," McEwan said. "AIG did the same, where the government sold out, and that worked very successfully for all parties."
RBS shares gained as much as 1.9 percent as other major U.K. lenders declined. The stock was up 0.6 percent to 311.3 pence at 10:45 a.m. in London trading for a loss of 21 percent this year.
The CEO said RBS is on-course to reduce costs by about 850 million pounds in 2015. That would exceed a target given in July by 50 million pounds because of the bank levy, according to McEwan. The bank is "on-track to deliver" all of its targets and is making "great progress" reducing assets, he added.
Before it's here, it's on the Bloomberg Terminal.
LEARN MORE