Joe Biden Presidential Speculation Spreads to the UN
Danish Foreign Minister Kristian Jensen's slip of the tongue elicits laughter at the United Nations.
By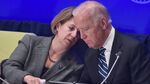 Vice President Joe Biden's long deliberation about whether to seek the Democratic presidential nomination has apparently become something of a worldwide preoccupation.
Biden was chairing a session on countering extremism at the United Nations in New York when Danish Foreign Minister Kristian Jensen referred to the vice president in the middle of his remarks as "Mr. President." (Biden had taken over the meeting from President Barack Obama, who headed back to Washington.)
Jensen caught himself and began laughing.
"Well, could have been! Could be! Well, who knows? If there's something you'd like to tell us," Jensen said as chuckles rippled across the room.
The European Union's Federica Mogherini was careful to emphasize the "vice" in his title while speaking next, drawing a smile from Biden. 
While the campaign of Democratic front-runner and former Secretary of State Hillary Clinton has stumbled amid persistent questions about her use of a private e-mail system, polls show Biden's stock has risen among Democratic voters. 
Biden, who was unsuccessful in two previous tries for the nomination, has put off a decision on making a bid as he assesses whether his family is emotionally healed enough after the death of his son Beau to endure a long campaign.