Japan Watchdog's New Top Man Sees Need for Tougher Punishments
by and
Nation had 'shame culture' instead of big monetary penalties

SESC is 'extremely interested' in high-frequency trading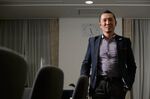 Regulators outside Japan fined UBS Group AG about $1.5 billion for rigging benchmark interest rates. Their counterpart in Tokyo essentially ordered some of the bank's traders to take a week off.
Kiyotaka Sasaki, the top bureaucrat at Japan's Securities and Exchange Surveillance Commission, is aware of the disparity, he says in his first media interview since taking the post in July. Softer punishments stem from the nation's history and culture, he says, as fear of being ostracized was previously deterrent enough.
Japan has already tightened some market rules, introducing stiffer penalties for insider trading last year. Sasaki's comments hint at the possibility of more to come as increasing cross-border financial misconduct creates a need to align punishments with other countries.
"Japan has a long history as a single-race society that viewed all people as fundamentally good. Rather than being about monetary penalties it was a shame culture," said Sasaki, 54, the snappily dressed and suntanned secretary general of the SESC. "But community and workplace bonds are gradually weakening" and the society is becoming more diverse. "It'll probably be necessary to review our sanctions."
Olympus, Toshiba
While Sasaki talks of Japan's exposure to outside influences, several high-profile cases of wrongdoing have been homegrown. They include Olympus Corp.'s cover-up of bubble-era investment losses and accounting irregularities at Toshiba Corp. that forced the conglomerate to correct years of earnings. The SESC filed criminal complaints against Olympus and some of its executives that resulted in convictions, and is currently investigating Toshiba. Toshiba added a 400 billion yen ($3.3 billion) credit commitment with banks, the company said Wednesday, amid uncertainty about the costs of the scandal.
Sasaki, a graduate of the University of Tokyo, assumed the post the year after new insider-trading regulations banned providing non-public information to others so that they could trade on it, and increased fines for money managers using the tips to trade on clients' behalf. The changes came after a series of penalties, some less than $1,000, for institutional investors trading on inside information from brokerages about public share sales.
New Rules
While no asset managers have been sanctioned since the rules changed, an 80,000 yen fine that Sumitomo Mitsui Trust Bank Ltd. got in 2012 would increase more than 1,100-fold to 88.7 million yen under the new system, according to calculations by Bloomberg.
"Penalties have to be based on the existing laws," Sasaki said. "There's no country where you can have enforcement without a legal basis," he said. "We have to strengthen after-the-fact checking and penalties and review everything, including preventive measures. The effectiveness of sanctions changes with time."
The punishments also differ by jurisdiction. Tom Hayes, the former UBS and Citigroup Inc. trader jailed for 14 years in the U.K. for attempting to rig interbank interest rates, worked in Tokyo for the brokerages, and Japan was quick to rule on the misconduct. In December 2011, the Financial Services Agency acted on a recommendation by the SESC and ordered UBS's Japan securities unit to suspend trading in Tibor and Libor derivatives from Jan. 10-16 the next year. Citigroup's Japan markets arm was suspended Jan. 10-23.
Effective Response
Regulators from the U.S., the U.K. and Switzerland, by contrast, fined UBS a combined 1.4 billion Swiss francs, or about $1.5 billion at the time.
"We presented the problem and asked for improvement and then it went global," Sasaki said. "Japan was the catalyst and that's something we're proud of. I think our response as the surveillance body was effective."
Etsuro Kuronuma, a professor of law at Tokyo's Waseda University, says the SESC has less leeway to dole out heavy sanctions.
"The SESC's punishments look less strict compared to overseas partly because there are legal restrictions," Kuronuma said. "In the U.S., for instance, regulators and companies can settle cases just by agreeing, and in some cases huge fines can be given. Japan's SESC hasn't been given such authority."
Public Backlash
There's no right answer on the severity of penalties, Sasaki said. U.S. and European regulators were influenced by how closely connected the rate-rigging was to the culture that created the financial crisis, and aware of a public backlash against bankers when they opted for harsher penalties, he said.
Sasaki, a fluent English speaker, says he wants to make the SESC more international. About 10 percent of staff have the skills to operate across borders, he says, and he plans to increase the number. Still, it will take a generation to get to about 40 percent, he said.
As markets become more global, one area that the SESC is watching is high-frequency trading, according to Sasaki.
"We're extremely interested in HFT," Sasaki said. "We've had this interest for several years," he said. "We're monitoring to see if it leads to unfair transactions, and if it does we'll recommend charges."
While the SESC's main role is to patrol for misconduct, Sasaki says he also wants market participants to help stop such acts before they occur.
"After-the-fact checking costs a lot," he said. "Prevention is the most desirable. We have to make market discipline work better."
Before it's here, it's on the Bloomberg Terminal.
LEARN MORE