HSBC Is the Latest Big Bank Saying Euro Has More Room to Rally
by
London bank raised its 2016 forecast to $1.20 from $1.10

Shared currency rallies versus most peers this quarter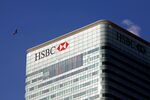 HSBC Holdings Plc is the latest bank this month to join the euro boosters.
The 19-nation currency is poised to strengthen 0.9 percent against the dollar this quarter as strategists doubt the European Central Bank is ready to expand its quantitative-easing program to stimulate economic growth and inflation. On Monday, HSBC joined Morgan Stanley, Bank of America Corp. and Citigroup Inc. in raising forecasts this month for the euro against the dollar.
"If they attempt to get the currency down through additional quantitative easing, we think that's going to be quite difficult," said David Bloom, the global head of currency strategy at HSBC, following a note in which he raised his euro-dollar forecasts to $1.20 by the end of 2016 from $1.10. "Don't be surprised, the euro has legs. QE has driven the euro from $1.40 to $1.05. Now it's kind of waning, it'll go back to $1.20."
The euro traded at $1.1249 and 134.70 yen as of 5 p.m. in New York. For the quarter, the shared currency has gained against all its major peers except Japan's currency.
'It Bounced'
"For me, it is too early already to talk about concrete measures about broadening QE," ECB Executive Board member Sabine Lautenschlaeger told reporters in Milan Monday.
In addition to speculation that ECB won't boost monetary stimulus, analysts note the Federal Reserve hasn't yet raised interest rates this year. The U.S. economy has been unable to escape the effects of slowing growth in China and the recent rout in commodity prices.
In the past two weeks, Citigroup and Morgan Stanley raised their year-end forecasts for the euro to $1.13, from $1.07 and $1.05 respectively. Bank of America increased its euro forecast by 5 percent to $1.05, saying there's a chance of the euro rallying, reaching at least $1.15 if the Fed doesn't raise rates this year.
"It's a combination of the downshift in Fed expectations and this whole risk-off environment, meaning the whole euro carry trade idea, which was supposed to be the big trade of the year, was disrupted," said John Hardy, head of foreign-exchange strategy at Saxo Bank A/S in London. "I wouldn't call it a strong euro, I would just say that it bounced and stayed flat."
Before it's here, it's on the Bloomberg Terminal.
LEARN MORE