Home Prices in 20 U.S. Cities Increased 5% in Year to July
by
All 20 cities showed year-to-year gains, led by San Francisco

Prices sped up in 14 cities, with biggest pickup in Boston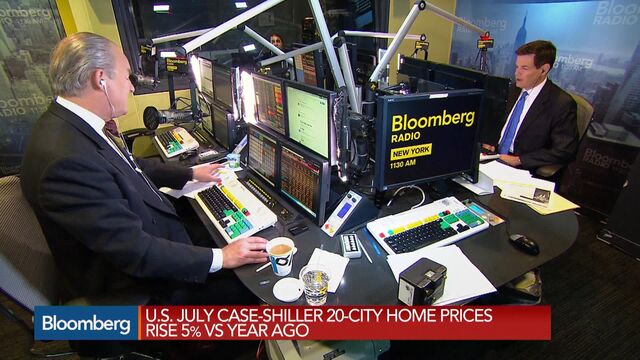 Home prices in 20 U.S. cities rose 5 percent in July from the same month in 2014, propelled by improving demand and limited supply.
Year-to-year increases in the S&P/Case-Shiller index have hovered in a narrow range around 5 percent since February, indicating the rebound in residential real estate is stable. The median estimate of economists surveyed by Bloomberg called for a 5.2 percent year-over-year gain. Nationally, prices rose 4.7 percent over the 12-month period, the group said Tuesday in New York.
Scant inventory of homes on the market is underpinning property values, while historically low mortgage rates are helping keep real estate within reach. Steady job gains, rental inflation and an easing of still-tight credit standards also should help prospective buyers find the wherewithal to make a purchase.
"Home prices are rising but not at a rate that's necessarily damaging to affordability and confidence in the market," said Tom Simons, an economist at Jefferies LLC in New York, who correctly projected the year-over-year advance in prices. "The market overall is doing quite well."
Survey Results
The median estimate of 30 economists surveyed by Bloomberg called for a 5.2 percent year-over-year gain. Estimates ranged from increases of 4.5 percent to 6 percent. The S&P/Case-Shiller index is based on a three-month average, which means the July figure was influenced by transactions in June and May.
Home prices in the 20-city index adjusted for seasonal variations dropped 0.2 percent in July from the prior month, matching June's decline.
All 20 cities in the index showed a year-over-year advance, led by a 10.4 percent increase in San Francisco and a 10.3 percent advance in Denver. The smallest gain was in Washington, where property values climbed 1.7 percent.
The year-over-year price increases accelerated in 14 cities in July, compared with the 12 months ended in June. Boston showed the biggest pickup, while Phoenix posted its eighth consecutive annual gain, the longest streak of any of the 20 cities.
Better Gauge
The year-over-year gauge, based on records dating back to 2001, provides better indications of trends in prices, the group has said. The panel includes Karl Case and Robert Shiller, the economists who created the index.
Measured against a month earlier, property prices fell in 10 of the 20 cities in July and were unchanged in one, according to the seasonally adjusted data. Home values in San Diego, which were up 0.8 percent, showed the largest monthly increase, while Chicago registered the biggest decline -- down 1.2 percent.
Before it's here, it's on the Bloomberg Terminal.
LEARN MORE