Here's a Wrap-Up of Wall Street's Latest Thoughts on Glencore
Asset sales, credit ratings and contagion all up for discussion.
by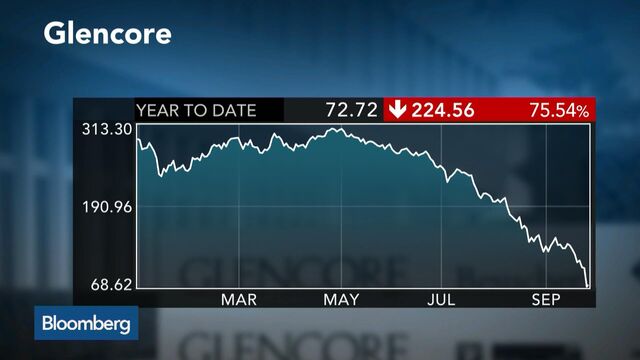 When a stock loses a third of its value in one day, you better believe Wall Street is sending out some updated research.
That's just what happened to commodities giant Glencore. With the company now facing its own mini-credit crunch, some analysts are calling for it to be taken private and others are discussing the possibility of asset sales and the potential fall-out to other commodities players, including the trading house Trafigura.
Here's what caught our eye.
Bernstein analyst Paul Gait (Overweight, price target 450p)
Over recent weeks, investor fears about Glencore's financial position have increased dramatically, and evidence of this is to be found in both the sharp decline of the share price and the steep rise in the Glencore credit default swap spread. With 25% of Glencore's outstanding debt, a nominal value of US$13bn, due to be repaid by the end of 2016, concerns that this debt will not be able to be refinanced have arisen. If current debt holders do not see value in the debt (and hence do not want to refinance), then clearly there is also no value in the equity given that the debt holders would, of course, be paid first in the event of liquidation. However, we see this debate as somewhat circular, and essentially tantamount to trying to calculate what something is worth to people who perceive that thing to be worth nothing: the answer is, clearly, nothing ... Even if we assume that the industrial assets continue to produce spot EBITDA margins (at spot commodity prices which are particularly depressed at present, with margins of only c.15%), and no contribution from the marketing business, we still see GBp93 of value. And this assumes that commodity prices never recover from their currently depressed state!
Macquarie analyst Alon Olsha (Outperform, price target 206p)
Fears of short-term funding squeeze on trading business are overblown. There appears to be growing concern in the market that, given the blow-out in GLEN's CDS spreads, credit lines could start being withdrawn from the trading business. All trading businesses rely heavily on high levels of debt to fund their trading activities so the prospect of funding lines being withdrawn has naturally spooked the market. However, we feel that the stock's reaction (down ~30% on 28 September) is an overreaction as funding lines remain secure ... Should market conditions fail to improve, GLEN's credit metrics would sit on the margin of BBB band and place the credit rating at risk of a downgrade. Under these conditions, we estimate that at least ~ $4bn of additional debt reduction initiatives would need to be announced to reassure the ratings agencies and the market that GLEN is committed to defending its BBB rating.
Citi analyst Heath R Jansen (Buy, price target 270p)
We believe there is potential upside to the $2bn target outlined from asset sales, including streaming and minority stake sale to strategic investor(s) in the agricultural business. The level of interest is likely to be high in both situations. We also think the group is not limited to just selling a minority stake and if the need be, the entire agricultural marketing business could be sold, which we value at ~$10.5bn ... We believe that in the event the equity market continues to express its unwillingness to value the business fairly, the company management should take the company private, whereby restructuring measures can be taken easily and quickly, with a potential float of just the industrial business occurring further down the track.
Jefferies analyst Christopher LaFemina (Hold, price target 140p)
Glencore is now under pressure to strengthen its balance sheet via asset sales or a capital injection, and time is of the essence. There is value in Glencore shares if the company can pull the appropriate levers now, but risks are clearly very high. We maintain our Hold rating on Glencore shares as the risk/reward tradeoff is still not attractive despite the potential upside ... We do not expect Glencore to do another sizable equity issuance since its market cap has fallen to just $15bn, although a second equity issuance is possible. It is more likely that Glencore sells assets (but this takes time) or seeks capital from a sovereign investor or strategic partner.
Imperial Capital analysts Kevin Cohen and Petr Grishchenko (Underperform, price target 35 pence)
We think the ability to retain its investment grade ratings is less than 50% - but it might not matter that much in some respects, anyway, given "it's not your Father's Glencore." While a potential downgrade to below investment grade on both sides, hypothetically speaking, would be a material adverse development, it might not matter as much as some may assume only because the company has evolved its EBITDA mix to sharply from its inception in 1974 such that its reliance on short-term bank line funding is less than it used to be ... A potential downgrade at Glencore could reverberate to TRAFIG which is a very highly levered credit with very low EBITDA margins and negligible "simple" free cash flow and heavily reliant on short-term bank line funding..."
Peter Grauer, the chairman of Bloomberg LP, the parent of Bloomberg News, is a senior independent non-executive director at Glencore.
Before it's here, it's on the Bloomberg Terminal.
LEARN MORE