Five Things Everyone Will Be Talking About Today
Busy day today - get caught up here
by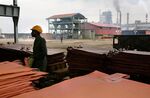 Glencore shares rise, commodities still look like death and the India rate cut is larger than expected. Here are some of the things people in markets are talking about this morning.
Glencore shares rise
Glencore shares were trading 9 percent higher at 75 pence at 10:30 a.m. London time as it recovered some of yesterday's huge losses. Investors in the company are unhappy with the silence from Glencore's board in response to the collapse, with Legal & General Group Plc Chief Executive Officer Nigel Wilson saying "There's a lot of noise and there's not enough signalling," on Bloomberg Television's "Countdown" with Guy Johnson. 
Commodity rout or commodity crisis?
Investors are becoming concerned that what has looked like a commodity rout will turn into a full blown-crisis. The 15-month fall in prices is unlikely to be reversed soon, with the Federal Reserve calling time on the cheap-money era and China still struggling to recover from its slump. The drop in commodities is easily seen in copper - viewed as a bellwether for the global economy by some - where the price has dropped through its 200-month moving-average in recent days, a month-end support level that has held since 2004.
India rate cut
India's central bank lowered interest rates by 50 basis points to 6.75 percent, a move predicted by only one of 52 economists surveyed by Bloomberg. Governor Raghuram Rajan said that weakening global activity since the bank's last review led to the decision, which is intended to help stoke domestic demand. Separately, Indian authorities relaxed rules on foreign ownership of its debt, giving global investors greater access to Asia's best-performing bond market.
Euro-area sentiment rises
Shaking off concerns on global growth and collapsing commodities, Euro-area economic confidence unexpectedly rose to 105.6 in September. The median estimate of economists in a Bloomberg survey was for a decline to 104.1. The Stoxx Europe 600 Index dropped 0.4 percent at 10:35 a.m. London time, after being as much as 1.8 percent lower earlier in the session. 
Coming up...
At 10 a.m ET we will find out how U.S. consumer confidence is faring, which will help investors gauge the health of the world's largest economy. The median estimate of economists surveyed by Bloomberg is for a drop to 97.0 from August's 101.5.  Also today we get the Case-Shiller home price index.
What we've been reading
This is what's caught our eye over the last 24 hours.
Want to receive this post, and more, into your inbox every morning? Sign up here.
Before it's here, it's on the Bloomberg Terminal.
LEARN MORE