Glencore Says It 'Remains Operationally and Financially Robust'
Will Kennedy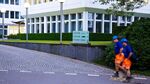 Glencore Plc said the commodity group's "business remains operationally and financially robust" and has positioned itself to withstand current market conditions.
"We have positive cash flow, good liquidity and absolutely no solvency issues," the company said in a statement. "Glencore has no debt covenants and continues to retain strong lines of credit and secure access to funding."
Before it's here, it's on the Bloomberg Terminal.
LEARN MORE