Glencore Fear Trade Grips Debt Market Amid Commodity Pain
By and
Price plunge puts many mining companies near junk status

'The market is on edge and the bad news keeps coming'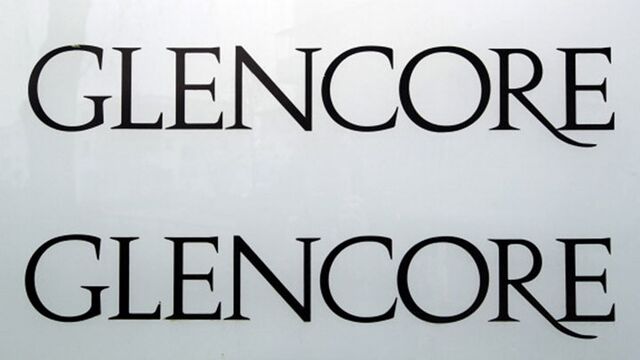 Glencore Plc just gave credit traders another reason to reach for the antacid.
Fears the commodities house won't be able to get a grip on its $30 billion debt load triggered a global selloff Monday, sending junk-bond yields over 8 percent for the first time in three years, a Bank of America Merrill Lynch index shows.
The concern is tied to the reduced demand for metals and minerals from China amid the country's economic slowdown. The panic Monday was also partially fueled by a warning from investment bank Investec Plc that Glencore and mining company Anglo American Plc could be severely devalued if low commodities prices persist. Maintaining an investment-grade rating is particularly important for Glencore because the company's large trading operation needs it to continue borrowing at attractive rates.
"The market is on edge, and the bad news keeps coming," said Margie Patel, a money manager for Wells Capital Management Inc. in Boston, which oversees $351 billion. "When you have this much bad news and you aren't near any inflection point to speak of, it just begets more sellers, even when prices are low."
The rout was so fierce that traders started demanding more to insure against a Glencore default by the end of next year than for five years of protection -- a debt-market distortion that typically happens when companies are deemed in distress. Anglo American bonds, which have an investment-grade credit rating, were suddenly being treated like they were junk.

The anxiety infected almost every part of the junk-bond market and effectively brought issuance of new debt to a halt. Among investment-grade companies, just $1.7 billion of debt was issued compared with $18.9 billion a week earlier. At least two firms postponed note sales.
The strains felt in debt markets are still a far cry from the worst of the last two big financial crises in 2011 and 2008. A U.S. gauge of credit risk, the Markit CDX index tied to investment-grade companies, was still well below the levels reached then. And there's little sign concern is spreading to banks.
But in some corners of the market, the signals are increasingly worrying. Bonds of Noble Group Ltd. due January 2020 plunged 14 cents on Tuesday to 66 cents on the dollar, according to data compiled by Bloomberg. Noble Group is Asia's biggest commodity trader.
Refinancing Struggles
The turmoil underscores the lengths to which yield-starved debt investors staked their fortunes to the commodities boom. As miners and oil producers sought cheap capital to fund their expansions, more than $262 billion of bonds worldwide were issued from junk-rated miners and energy companies during the past four years.
Now, with commodities prices slumping to their lowest level in more than 16 years, the riskiest borrowers are struggling to refinance. With higher-rated mining companies like Glencore, Anglo American and Freeport-McMoRan Inc., investors are becoming increasingly concerned that the stress won't be contained to the junk market.
"When you look at the fundamentals it's going to be harder and harder for some of these companies to keep their investment-grade ratings," Patel said. "We should see more downgrades, and that is putting pressure on the market."
Investors have already started treating Glencore's debt as if it's junk, demanding upfront payments for first time since 2009 and pricing in a more than 50 percent chance that the Swiss company will default. The firm has $30 billion of net debt.
Peter Grauer, the chairman of Bloomberg LP, the parent of Bloomberg News, is a senior independent non-executive director at Glencore.

"The contagion from the commodities slump that we feared earlier in the year is starting to play out," said Matthew Mish, a senior credit strategist at UBS Group AG in New York. "You have this virtuous cycle turning into a vicious circle."
In addition, the timing of the warning about Glencore and Anglo American couldn't have been worse, with worries of a pending interest-rate increase by the Fed and the reduced economic activity by China reaching a crescendo.

"This is really starting to feel like the 2011 Euro bank crisis," said John McClain, a portfolio manager at Diamond Hill Capital Management Inc., in Columbus, Ohio, which oversees about $17 billion. "The theme seems to be the market is looking for reasons to go lower."