Gazprom Seeks EU Deal With No Admission of Antitrust Breach
by
Gazprom proposes settlement options, saying it's not guilty

Medvedev sees Gazprom keeping at least current EU market share
Gazprom PJSC proposed options for an antitrust settlement with the European Union's regulator while refusing to admit any guilt, an executive at Russia's monopoly natural gas exporter said.
"We didn't plead guilty on any of the items," Gazprom Deputy Chief Executive Officer Alexander Medvedev said in an interview on Tuesday in Yuzhno-Sakhalinsk in Russia's Far East. Gazprom proposed settlement options "that can eliminate their anxiety -- without an admission of guilt."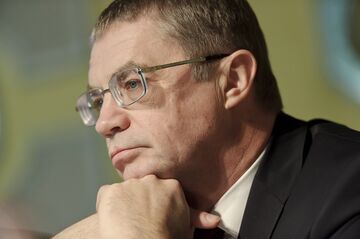 The state-controlled company on Monday filed its reply to accusations that it wielded market power to impose unfair prices in central and eastern Europe, arguing that the allegations "are based on an incorrect methodology." Settlement talks froze last year as political tensions escalated over Russia's involvement in the Ukrainian crisis. While the conflict has pushed Gazprom to seek new customers, the EU, which gets about one-third of its gas from Russia, remains its biggest market.
"We would very much like these issues not to be politicized," Medvedev said and declined to comment on a time frame for a possible deal. "The truth will triumph.'
No Restrictions
In April, the EU took a more aggressive stance, sending Gazprom a formal antitrust complaint and accusing it of pursuing an unfair pricing policy in Bulgaria, Estonia, Latvia, Lithuania and Poland. It said territorial restrictions -- such as export bans -- may result in wholesalers facing prices that are significantly higher than the company's costs or benchmark rates.
Medvedev said there are no "destination clauses" in almost any of Gazprom's supply contracts and there were no such restrictions on re-exporting gas when the claim was sent. In response to the EU's proposal to use gas-hub rates, Medvedev said Gazprom's clients are moving in the opposite direction and are asking to return to oil-linked prices.
Margrethe Vestager, the EU's competition commissioner, said Monday that it's too early to say whether Gazprom and the commission can overcome their differences on the issue of excessive pricing.
Gazprom is ready to supply to Europe "as much gas as necessary," Medvedev said. "This initiative has been heard, and this is why we signed the shareholding agreement on Nord Stream-2 with our European partners so quickly."
Gazprom, Royal Dutch Shell Plc, E.ON SE, BASF SE, OMV AG, and Engie signed the deal to jointly construct two more lines of the Nord Stream gas pipeline in early September, less than three months after a framework agreement.
The new pipes will have a capacity to carry a total of 55 billion cubic meters per year of gas from Russia to Germany across the Baltic Sea, with supplies starting in 2019. Gazprom is currently able to use only up to 50 percent of the Opal pipeline in Germany. Nord Stream is linked to Opal to the European gas system, as EU rules demand third-party access.
"We hope very much that the European Commission will not put a spoke in our wheel but on the opposite, support us," Medvedev said.
Prospects in Europe will depend on the region's energy policies, Medvedev said. Gazprom expects that its market share "won't decrease, at least" in the next 10 to 15 years and "perhaps even longer," he said.
Before it's here, it's on the Bloomberg Terminal.
LEARN MORE