business
Former FIFA Vice President Jack Warner Gets Lifetime Ban
By and
Warner banned after review of World Cup Bidding Process

Warner was key player in schemes involving `illegal payments'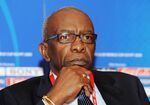 Jack Warner, long one of soccer's most influential power brokers, was slapped with a lifetime ban from the sport less than 24 hours after FIFA President Sepp Blatter defiantly refused to resign in the face of a widening corruption scandal.
Warner "was a key player in schemes involving the offer, acceptance, and receipt of undisclosed and illegal payments, as well as other money-making schemes," the adjudicatory arm of FIFA's independent ethics committee said in an e-mailed statement.
Warner, a former FIFA vice-president who is fighting extradition to the U.S., is one of 14 men charged in a sprawling soccer corruption case that's led to the biggest crisis in FIFA's 111-year history. The scandal, which started with U.S. charges in May, widened last week when the Swiss attorney general opened an investigation into Blatter, who's run FIFA for 17 years.
Warner said in e-mailed comments that his ban was designed to draw attention away from the Zurich-based organization's own woes.
"I do not believe that this will serve as the distraction to the FIFA's present problems as the FIFA wishes it to be," he said in the e-mail.
World Cup Bidding
FIFA said today its decision was based on reviews of bidding for the 2018 and 2022 World Cups, the controversial two-year race that led to Russia and Qatar being awarded hosting rights to sport's most-watched event. Warner has both denied any wrongdoing and threatened to produce an "avalanche" of evidence against Blatter and other FIFA officials.
Warner quit soccer in 2011 while being investigated for helping arrange a meeting for an Asian soccer official to his Caribbean counterparts while he was challenging Blatter for FIFA's top job.
At that meeting officials received envelopes stuffed with $40,000, according to inquiries by FIFA and the regional body for soccer in North and Central America. The inquiry was dropped when Warner quit, with FIFA saying his presumption of innocence was maintained.
"I left the FIFA in April 2011 and if in September 2015 FIFA wants to ban me for life without even a hearing, then so be it," Warner said in the e-mail today.
While Warner hasn't directly implicated anyone, he's at the center of a case that Swiss prosecutors have brought against Blatter. Swiss prosecutors said last week a television contract Blatter agreed with Warner's Caribbean Football Union was signed for below its true value.
In recent weeks Swiss authorities have started to approve the extradition to the U.S. of FIFA officials arrested in the country before an annual meeting in May.
On Tuesday, the Federal Office of Justice, said Costa Rica's Eduardo Li can be sent to the U.S. to answer charges of accepting bribes in return for sports marketing contracts.
(Updates with Swiss agreeing to extradite former FIFA official in last paragraph.)
Before it's here, it's on the Bloomberg Terminal.
LEARN MORE