Five Ways Xi's Trying to Ease Concerns Over Growing China Clout
Bloomberg News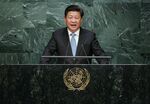 President Xi Jinping sought to quiet unease about China's growing economic and strategic clout by promising as much as $13 billion to support peacekeeping, developing countries and other United Nations programs.
Xi made the commitments during a U.S. visit that on Monday included his first speech to the world governing body and a White House summit with Barack Obama last week. The pledges advance China's efforts to expand its role as the leading advocate for developing nations and export excess industrial capacity by building infrastructure overseas.
"The bigger picture here is China trying to portray itself as a leader for other developing nations," Andres Rodriguez, a history lecturer at the University of Sydney, told Bloomberg TV on Tuesday. "That's what makes it different to ways in which the West very much has a had stake and a dominating role in these institutions of financial control."
China's creating a $2 billion fund to support 600 education, health, economic development and infrastructure projects in African and Asian nations. The plan is to expand it to $12 billion by 2030 and write off interest-free loans owed by the least developed regions.

Spending $1 billion over the next decade to support the UN's promotion of international cooperation and world peace.
Providing $100 million in military aid to the African Union over five years to fund the development of standby and crisis-response forces.
Establishing an 8,000-troop permanent force to assist UN peacekeeping assignments.

Donating $10 million to aid the UN agency promoting women's rights.


The peacekeeping aid demonstrates China's efforts to differentiate itself from the U.S. and others by relying on the UN as its security vehicle, "always very much using the tailoring, the clothing, of international cooperation," Rodriguez said. "It makes it much harder to be criticized in terms of just simply projecting Chinese military force around the world."
— With assistance by Keith Zhai
Before it's here, it's on the Bloomberg Terminal.
LEARN MORE