Fired RBS Trader Colluded With `Cartel,' Bank Colleague Alleges
by
RBS manager says trading data was shared to front-run markets

Ian Drysdale is suing RBS for unfair dismissal in London court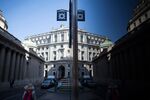 A Royal Bank of Scotland Plc trader fired amid the currency-rigging scandal plotted with members of the notorious 'Cartel' chat group and shared secret client orders with contacts at rival banks, a senior colleague told a London employment tribunal.
Ian Drysdale, who is suing the bank for unfair dismissal, would share information on competitor banks' trading positions ahead of the so-called European Central Bank fix with "particularly aggressive" members of the Cartel, Nicholas Bamber, head of U.K. corporate coverage for debt capital markets at RBS, said in a witness statement submitted to the tribunal Tuesday.
"Any long-standing banker should have recognized that this behavior was unacceptable," Bamber said.
Drysdale, who was suspended during the bank's internal investigation into currency market manipulation and later fired, is suing the bank for breach of contract and unfair dismissal. He joined the bank in 2010 and was let go after RBS received fines of 217 million pounds ($329 million) by the U.K.'s Financial Conduct Authority and $290 million by the U.S. Commodity Futures Trading Commission for its part in the foreign-exchange scandal.
Currency Benchmarks
"The Cartel" was the name given to a private chat room used by senior traders at banks including JPMorgan Chase & Co., Barclays Plc and UBS Group AG to share information and agree plans to try to move currency benchmarks including the so-called 4 p.m. fix.
Though he wasn't a member of the 'Cartel' electronic chat group, he was a frequent participant in other chat rooms with some of its members, according to Bamber.
During a transcript of one electronic chat shown to the tribunal, Drysdale disclosed an order by a client he referred to as "Red". Though he claimed during his disciplinary hearing that "Red" was a generic reference to the Eastern European Bloc, the Russian Central Bank was the only institution he could credibly be referring to, Bamber said.
Drysdale "was disclosing more information than was required for the purposes of matching," Bamber said. "He was disclosing information to a competitor bank which was useful to the competitor."
Aggressive Traders
In a separate chat, ahead of the European Central Bank fix, Drysdale "shared specific data on other banks' trading positions with individuals he knew to be aggressive traders," Bamber said.
The fix is a short window in the day when thousands of trades are transacted on behalf of investors around the world. Traders with prior knowledge of those orders were able to place their own bets on whether currency rates would rise or fall.
"The issue was how much information and comment was going on around those matches, and how you might use that to front-run the market. Aggressive traders thought they could win by front running the market ahead of the fix window and driving the fix lower or higher ahead of the market," Bamber said. Drysdale "went further than behaving as a defensive trader at times," he added.
The trial is scheduled to last until Friday. Drysdale's evidence will be heard later in the week.
Before it's here, it's on the Bloomberg Terminal.
LEARN MORE