House Committee Presses FBI Chief Comey on Clinton E-Mail
Billy House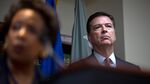 Members of the U.S House Intelligence Committee are pressing FBI Director James Comey for more details of the bureau's recovery of e-mail messages that Hillary Clinton said had been deleted from a private computer server.
In a meeting Monday with the committee, Comey declined to provide specifics but acknowledged that he has a team working on the server, Representative Lynn Westmoreland, a Georgia Republican and a panel member, said on Tuesday.
"It was the elephant in the room," said Westmoreland. He said the issue was raised with Comey after published reports that some Clinton e-mails had been recovered -- information that he says has been hard for members of Congress to obtain.
Bloomberg News, citing a person familiar with the probe, reported on Sept. 22 that the Federal Bureau of Investigation has been able to salvage at least some of the roughly 30,000 personal e-mails that the former secretary of state said had been deleted from her server.
Since the existence of the e-mail system became public in March, Clinton has seen her standing in Democratic presidential polls slide, particularly in regards to questions about her trustworthiness. She also has been heavily criticized by congressional Republicans who have raised questions over whether the private server jeopardized the security of sensitive data.
Westmoreland also sits on the Select Committee on Benghazi. That panel also has been looking into Clinton's e-mails while she was secretary of state as part of its investigation into the handling of the Sept. 11, 2012, terror attacks in Benghazi that killed four Americans.
Clinton Testimony
The Benghazi committee is preparing to take closed-door testimony next week from longtime Clinton aide Huma Abedin, Westmoreland said. Clinton herself is scheduled to testify publicly before the committee on Oct. 22.
Representative Devin Nunes, a California Republican and chairman of the House Permanent Select Committee on Intelligence, didn't have an immediate comment through a spokesman on Monday's meeting with Comey. An FBI spokesman didn't immediately respond to a request for comment.
Westmoreland said the FBI chief's response to panel members' questions about the recovered Clinton e-mails provided little information.
Mostly, "he would not address it," Westmoreland said. The director did tell the lawmakers he couldn't talk about an open investigation, he said.
Paper Copies
During her tenure as the nation's top diplomat, Clinton had used a non-government e-mail address -- hrod17@clintonemail.com -- to send personal and work correspondence. She said she took such a step as a matter of convenience and between 2009 and 2013 exchanged more than 60,000 such messages, about half of which she said were of a personal nature.
While Clinton's team in December 2014 turned over paper copies of about 30,000 work-related e-mails to the State Department, the other roughly 30,000 e-mails Clinton said were personal had been deleted from her server.
"It's a big deal," said Westmoreland of news that some of those have been recovered by the FBI.
He noted that the State Department and the White House have since said they've also managed locate some Clinton-related e-mails they had not previously claimed to have.