Credit Suisse: There's a Growing Threat of a Major Top in the S&P 500
Another technical indicator flashes a warning signal.
by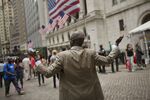 Sorry bulls, technical analysis isn't looking so hot for U.S. equities at the moment, and Credit Suisse is piling onto your pain. 
In a new note, Ric Deverell and his team at Credit Suisse point to some technical levels worth watching, one of which could be a big signal that the top is in for the S&P 500-stock index. The index is currently trading around 1,890. 
... We have been looking for the market to retest the spike low from August at 1,867, and then medium-term support at 1,820, the October 2014 low. With several key sectors now also falling to major support levels – notably industrials ‒ and looking vulnerable, we think the risk a major top may be established has risen sharply. Below 1,867 should keep the risk lower for price and "neckline" support at 1,832/20. Below here would mark the completion of an important top, turning the core trend bearish. If achieved, we would target 1,738/30 initially – the low for 2014 itself, and the 38.2% retracement of the 2011/2015 uptrend. Although we would expect this to hold at first, a break would be favoured in due course for 1,575/74 – the 38.2% retracement of the entire 2009/2015 bull market. 
While we've been in a sideways market for a while, a major top, according to David Sneddon on the Credit Suisse team, would mean breaking below levels such as the October 2014 low of 1,820 in the S&P.
"We've obviously already had a significant fall in the stock market, triggered by the breaking down of the lows we saw earlier this year. The big question now is whether this is just a correction in a bull market," he told us. In his mind, tumbling past 1,820 would signal that the market move could be something bigger. 
On the plus side, a move above 1,953 could help ease selling pressure, the Swiss bank said.
Credit Suisse is far from the first (or only) market participant to highlight troubling technical analysis patterns recently. A Bloomberg report earlier this month pointed to a downward sloping "head and shoulders" pattern in the Dow Jones Industrial average, suggesting further selling pressure ahead.

A "Dow Theory sell signal," one of the oldest technical indicators around, was also triggered in August when the DJIA and Dow Jones Transportation Average fell below the low of a previous selloff, set in October 2014. 

Death Crosses, Hindenburg Omens, and other imaginatively named technical indicators have also made appearances recently. 
Before it's here, it's on the Bloomberg Terminal.
LEARN MORE