Corbyn Attacks Blair and Calls for More U.K. Public Spending
Robert Hutton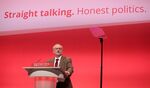 Jeremy Corbyn used his first conference speech as leader of the U.K. opposition Labour Party to attack his most successful predecessor, Tony Blair, and call for more government spending to help "the many with little or nothing."
In a speech that lasted just under an hour on Tuesday, Corbyn denounced Blair's 2003 invasion of Iraq and reaffirmed his own support for getting rid of Britain's nuclear weapons. On the economy, he said Labour would be "challenging austerity." He said government-funded maternity and paternity pay for self-employed workers should be increased and called for a big program of housebuilding by local authorities.
"Don't accept injustice, stand up against prejudice," Corbyn told the party as he ended his address in Brighton, southern England. "Let us build a kinder politics, a more caring society, together."
After a rough first week as leader that saw a number of prominent figures refusing to serve in his shadow cabinet, Corbyn, elected on an anti-austerity platform, has been seeking to overcome divisions at the conference. He has just over six months before a series of assembly and local elections around Britain test Labour's support against Prime Minister David Cameron's Conservatives.
Aside from nuclear weapons, where his most of his lawmakers disagree with him, Corbyn avoided issues that divide Labour. He did remind his internal critics that he has the support of the majority of the party's activist base after winning nearly 60 percent of the vote in the leadership election this month.
Exploding Fizz
"Young people and older people are fizzing with ideas," he said, hailing the tens of thousands who've just joined the party. "Let's give them the space for that fizz to explode into the joy we want of a better society."
The speech was notable as much for what it didn't mention: neither the budget deficit, Labour's defeat in the May 7 general election, nor the question of immigration that's now uppermost among voters' concerns made an appearance.
Instead, he demanded Cameron take action on human rights in Saudi Arabia and then attacked media coverage of his leadership. He addressed directly the prime minister's assertion that he represents a danger to Britain's security.
"Where's the security for hundreds of thousands taking on self-employment with uncertain income, no sick pay, maternity pay, no paid leave, no pension?" he asked.
Syria Conflict
His denunciation of Blair's actions came in a passage in which he demanded a political, rather than military solution to the conflict in Syria, at a time when Cameron is weighing air strikes against Islamic State in the country.
"It didn't help our national security when we went to war with Iraq in defiance of the United Nations and on a false prospectus," Corbyn said. "It didn't help our national security to endure the loss of hundreds of brave British soldiers in that war while making no proper preparation for what to do after the fall of the regime."
The day after his Treasury spokesman, John McDonnell, promised to cut "corporate welfare," Corbyn called for government action to save the Sahaviriya Steel Industries UK works in northeast England that was mothballed this week.
Approval Rating
A repeated theme of the speech was attacks on his critics in the media. Corbyn had a net approval rating of minus 3 percent in an Ipsos Mori poll last week -- the worst on record for any new leader of the two main parties. His predecessor, Ed Miliband, had a 19 percent rating when he took over in 2010.
"The delegates absolutely loved it," said Tim Bale, professor of politics at Queen Mary University, London, who was in the hall. "But I suspect there'll be an inverse correlation between how well it went down in the hall and how it will resonate with ordinary voters -- most of whom aren't liberal and don't see themselves as downtrodden. In short, it was comfort-zone stuff, and that doesn't usually end well for Labour."
Before it's here, it's on the Bloomberg Terminal.
LEARN MORE