Copper Flirting With Key Long-Term Support Into Month-End: Analysis
by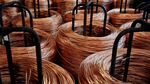 Copper is currently trading roughly 2 percent below its 200-monthly moving average which has supported the metal on a closing basis for every month since the China-led commodity super-cycle began in January 2004, Bloomberg strategist Mark Cudmore writes.

Copper is under pressure from the 8.8 percent drop in Chinese industrial profits in August -- the biggest decline since at least October 2011 when the data started being tracked. Copper for December delivery on the Comex traded as low as $2.232 a pound on Monday while the 200-MMA on comes in at $2.285. The metal, also known as "Dr. Copper," is seen as early indicator on the health of the global economy due to its widespread use in most economic sectors.
The terms-of-trade impact from a copper decline will most negatively impact Chile, while providing a marginal boost to terms-of-trade for China, Japan and India. Chile is the world's largest copper producer and the Chilean peso is currently trading near 12-year lows against the dollar. 
Commodity mining giant Glencore Plc saw the largest daily price fall on record Monday, plunging as much as 31 percent, as commodity prices weakness highlighted the risks from the company's high debt levels.
NOTE: Mark Cudmore is a strategist who writes for Bloomberg. The observations he makes are his own.
Before it's here, it's on the Bloomberg Terminal.
LEARN MORE